Before you begin – Read carefully as we walk you through the updated review and buying guide of the best hybrid table saw under $1000. Read within lines to make the right buying choice. Good luck!
Best Choice
Good Choice
Don't Miss
Also Consider
Shop Fox W1837 10" 2 hp Open-Stand Hybrid Table Saw
13 Amp 10 in. Professional Cast Iron Table Saw
DEWALT 10 Inch Table Saw, 32-1/2 Inch Rip Capacity, 15 Amp Motor, With Rolling/Collapsible Stand...
BOSCH 10 In. Worksite Table Saw with Gravity-Rise Wheeled Stand 4100XC-10
Best Choice
Shop Fox W1837 10" 2 hp Open-Stand Hybrid Table Saw
Good Choice
13 Amp 10 in. Professional Cast Iron Table Saw
Don't Miss
DEWALT 10 Inch Table Saw, 32-1/2 Inch Rip Capacity, 15 Amp Motor, With Rolling/Collapsible Stand...
Also Consider
BOSCH 10 In. Worksite Table Saw with Gravity-Rise Wheeled Stand 4100XC-10
For many woodworkers, a table saw takes priority in their workshop. It is indubitably the most important tool in any woodworker's shop.
It does not matter whether you want to cut sheet goods, cut tensions, rip lumber, clean up a face, or even make coving cuts, your table saw can handle almost every task thrown at it.
A good table saw model can cost anything from a few hundred dollars to several thousand of dollars. So, if what you are looking for is a saw to take the top spot in your woodworking shop, you certainly would like to know which saw is the best and which one is on the market that is sold for under a thousand dollars.
That is exactly why we have put together this complete review on the best hybrid table saw under $1000.
Top Budget Hybrid Table Saws Under $1000 on the Market
Shop Fox W1837 Rating: 9.7
Ridgid R4512 Rating: 9.5
DEWALT DWE7491RS Rating: 9.3
Bosch 10-inch Worksite 4100-09 Rating: 8.8
Rockwell RK7241S Rating: 8.7
Best Hybrid Table Saws Under $1000 – Reviews
1. Shop Fox W1837
This product sits at the top of this list because of just how amazing it is.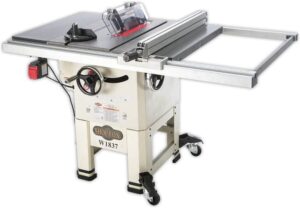 It will cost you a bit, but it sure provides you a great deal for your money. As a hybrid saw, it sits well between a cabinet saw and a contractor saw. This model comes with a powerful 2 HP motor and a 10-inch blade.
The blade of this saw can tilt up to 45 degrees and it is great for cutting bevels, chamfers, and compound miters.
The main body of this saw is an enclosed cabinet that has a 4-inch dust extraction port that gives just the type of extraction and cleanliness that is usually associated with cabinet saws that are on the high end.
The safety features on this saw are also great and it comes with an interchangeable riving knife that helps to reduce kickback. The knife is at blade height, meaning that you can make trenching or non-through cuts quite easily by removing the top blade guard.
When you work with the Shop Fox cabinet saw, it feels like you are working with a high-end model. A heavy cast iron table gives the needed stability, and the features of it put together makes it very easy to use.
The downside to this is its cast iron table; because of the high cost of maintaining a flat table, there could be some unevenness present. And this unevenness that one might experience is not a too big problem, as it can be fixed with some fettling and a straight edge.
Now, you see why it top our list of the best hybrid table saw under $1000.
2. RIDGID R4512
The RIDGID R4512 model is a high-quality tool that gave the previously mentioned product a run for its money, even though it will cost a few dollars less.
This machine feels quite stable when you use it, and it is also sturdy, and it can perform almost every cut that you would ever need to make.
It comes with a 13-Amp motor that drives the blade at 3,450 RPM, meaning that this saw has a lot of power.
Its blade guard is quite great, and it features a very effective anti-kickback mechanism. For more security, the guard is made transparent, making you see just what is happening during each cut that you make.
The fence system on the saw does quite well and it also locks down securely and it is parallel to the blade.
Working with the RIDGID model is quite comfortable; it is stable, and it has a large worktop that helps to give support to larger pieces.
If you are wont to using different blades for your different cuts, it comes with enough onboard storage that allows you to keep everything you need from blades to wrenches, everything is kept within your easy reach.
Trying to assemble it can be a bit awkward, there are many steps, and trying to assemble it would require some trial and error before you eventually get it right.
3. DEWALT DWE7491RS
DeWalt is a big name in the machine business, and they have a great reputation in the tool world, and they have given us the DeWalt DWE7491RS.
This machine costs about half the price of the previously mentioned model, but it delivers on so many levels. This is exactly why it features in the list of our best hybrid table saw under $1000.
This model is capable of 32 ½ -inch rip capacity, which is quite incredible for a tool its size. It comes with a 15-Amp motor that gives lots of power and it also makes work easy when you are working on both soft and hardwoods. The motor can produce cuts up to 31/8 inches at a degree of 90, and 2 1/2 -inch at 45 degrees.
This tool has a large work area that gives great support for large pieces. It also is the right balance between being portable and stable; it weighs 90 lbs., and it can be moved around your workshop or worksite quite easily, and when you are using it, it is a very sturdy and stable place for cutting.
Its safety features are also top-notch; it has a riving knife and a removable blade guard that feel safe and sturdy when you are using them.
There is an automatic brake system that provides you with total peace of mind and control over your tool. With its sturdy fence system that holds down securely, this model has a 2 ½-inch dust extraction port that helps to keep your work surface tidy and clean.
The major drawback to the tool is that it is a finely tuned machine, and because of that, it requires constant maintenance and adjustments so it can give you the best results.
4. Bosch 10-Inch Worksite 4100-09
The Bosch 10-inch 4100-09 model certainly lives up to its name. it is every bit of the high-quality German engineering that we are used to having, and it can do nearly every task that you throw at it.
This stable and sturdy hybrid table saw is powered by a 15-Amp motor that can give you up to 4 HP at an RPM of 3,650.
There are lots of features that come with it, with its striking feature that is the smart guard system, this feature has a top blade guard, riving knife, and anti-kickback pawls that possess teeth that are used to grab a piece of wood and prevent kickback.
This machine comes equipped with a 5/8-inch Arbor, and this Arbor can take a variety of blades like a dado stack that is capable of cuts up to 13/16 inches.
For more angled cuts, you will be able to tilt this machine's blade between -2 and 47 degrees, and this covers almost all angles you can think of.
When we talk about rip cuts, the SquareLock rip fence is stable and secure, giving you a rip capacity of 25 inches.
It has a miter gauge that comes with the saw is the only downside to this machine because it does not feel solid, and it does have some play reducing accuracy. If you decide to go for the Bosch, you will need to build a sled for crosscuts, or you would need to get an aftermarket miter gauge.
5. Rockwell RK7241S
This model is the best budget option, as it gives you an impressive number of features for just a few hundred dollars.
It comes fitted with a 10-Amp motor that gives the machine enough power for most cuts, and it has a solid fence that holds down securely, providing 30 inches of rip capacity.
Its 10-inch blade can make up to 39/16-inch cuts at a degree of 90, and when the blade is beveled to 45 degrees, your cutting capacity is a substantial 29/16 inches.
What is surprising is that, for a saw of its price, it can handle dado blades, and the maximum dado width you can use is 7/16 inches.
One striking feature of this cabinet saw is the guide laser. The propriety technology enables you to make accurate cuts that are beyond any saw that fall in its price category. The laser automatically adjusts when the blade is beveled so as to ensure that every cut is precise.
As it was said earlier, the laser gives some great accuracy. But that cannot be said for the rest of the saw. There are various facets of this machine that will need constant and regular adjustments so as to keep things accurate and square.
Our Pick – Best Hybrid Table Saw Under $1000
Shop Fox W1837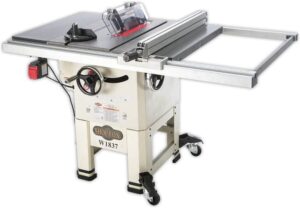 This machine ticks every box that you would want in a table saw. It is large, robust, and accurate, and it can be used with either 120 V or 240 V, and although it is a bit heavy, it comes with castors making wheeling it around your shop very easy.
When you use this machine, it would feel like you are working with a professional cabinet saw that costs several thousand dollars.
In every aspect, it gives great quality, accuracy, and safety. It is a very sturdy machine that weighs over 200 lbs., and it can easily take center stage in your workshop.
This hybrid table saw is a monster of a machine that delivers on every level.
There is no better saw for your money out there than this saw, and if you are looking to pick up anything similar to it, you should be looking to spend double or more of its price.
If you are looking for ultimate capabilities, you need not look any further because the saw has excellent cutting features, dust extraction, and up-to-date well-designed safety features. It is really good that its name might need to reflect this.
Buyer's Guide: Choosing the Best Hybrid Table Saw under $1000 for You
Here are the most important things to know before getting a hybrid table saw.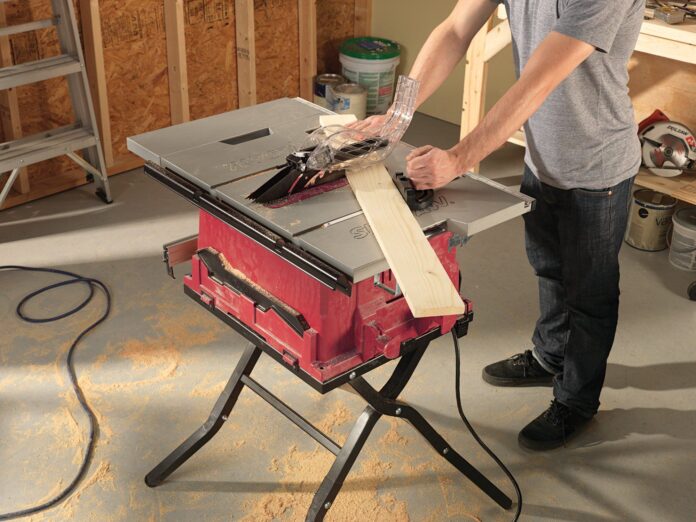 Safety
Safety and table saws cannot be talked about enough since these machines are responsible for most of the accidents in the workshop, and you risk serious injury without proper care and attention.
There are two key safety features that each saw you would be considered a must-have, and these features are the blade guard and a riving knife.
The blade guard is found on top of the table and it encloses the blade when it is going through cuts. The guard should be strong, and it should not wobble, and it should also surround all the blade. The best guards also have a small dust extraction outlet for above-table dust suction.
The riving knife can be located behind the blade, and its main function is to prevent kickback. With the cabinet saws made today, the removable blade guards will attach to the top of the riving knife.
Read Also: Hybrid Table Saws Tips You Should Know
You would need to look for a knife that sits at the same level as the top of the blade. Going for a model where the knife protracts over the top of the blade usually makes non-through cuts quite impossible to make. And what this does is that it leaves you in the dangerous position of having to remove a vital safety feature to make the trenching cut.
Anti-kickback pawls are quite nice to have, and they are a modern invention that is being incorporated into more and more saws. These are two sets of metal arms with teeth at the end that sit on the table attached to the back of the riving knife.
When a piece of wood passes, they lift up to allow it to pass and then the teeth would drop back onto the wood. Should in case the back of the blade catches the wood to kick it back, then the teeth bite into the piece preventing kickback.
The Fence
Although the fence may not seem like a vital safety feature, but it is. You should make sure to look for a model that has a fence that can move smoothly along the rails, locks down securely in place, and, most importantly, that it stays parallel to the saw blade.
If the fence locks down at an angle where the back of the fence is closer to the blade than it is to the front, it can cause serious safety issues.
When ripping, the narrower gap that is found at the rear of the fence has the potential to cause the wood to move toward the spinning blade, and this can result in a significant risk of kickback.
Saw Table: Aluminum Vs Cast Iron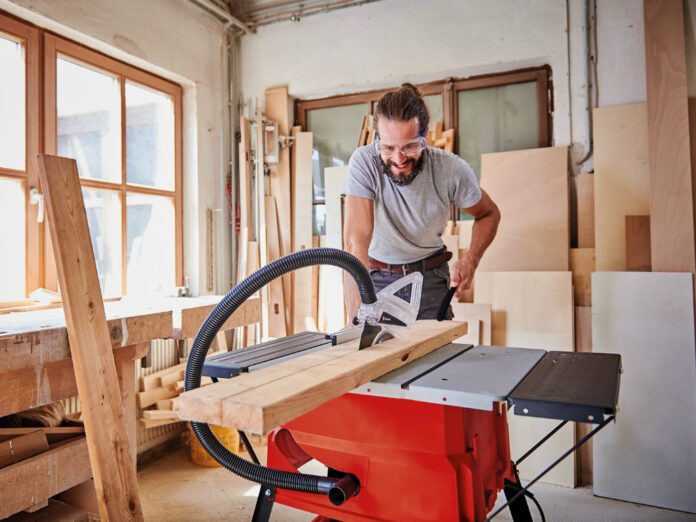 Many saws usually come with either a cast iron or an aluminum table. While the aluminum one is lighter than the cast iron, and it also means that the saw can be less heavy and easy to carry around, it is usually good that you go for cast iron in whatever situation.
The sheer weight and stability of the cast iron tables give a robust and sturdy base to work on. When you are looking for cheaper models, those that are less than several thousands of dollars, there always seems to be slight faults with their table top.
A saw table that comes with uneven spots will create less than stellar results. You can fix this with a straight edge and flatten the surface manually.
One of the main downsides with the cast iron tables is that they tend to be rougher than the aluminum ones, and what this means is that your workpieces won't glide smoothly.
You should constantly and regularly apply a layer of paste wax to your saw table and then buff it out so that it will create a smooth, frictionless surface.
Powerful Motor
The power of the motor is very important; if your saw does not have the power to drive the blade, then this could result in burning when rip cutting as well as several other safety issues if you stall the blade. But it is obvious that a blade with more power is better but look for a minimum of 2 HP in a table saw motor.
Miter Gauge
Almost every saw on the market has a miter gauge, and in almost 90 percent of cases, you will end up having to change it so it can work, or you might throw it away and use a sled for crosscutting.
In a much realistic world, your miter gauge should fit in its track snuggly and should be able to slide smoothly with no slop or wobble from side to side. Unfortunately, unless you are ready to spend thousands of dollars on a table saw, this would probably not be the case.
SKIL SPT99T-01 8-1/4 Inch Portable Worm Drive Table Saw
Legendary worm drive gearing offers maximum torque for ripping applications
Precision rack and pinion system makes fence adjustments quickly and smoothly for accurate cuts
Light weight and compact footprint make it easy to move around the jobsite
Tear through sheet goods and slice up to 3x with the 2-5/8 inch depth of cut and 25 inch rip capacity
All-metal construction delivers legendary durability
Sale
Goplus Table Saw, 10-Inch 15-Amp Portable Table Saw, 36T Blade, Cutting Speed Up to 5000RPM, 45º...
【Powerful Cutting Performance】Equipped with high-power 15 Amp motor in low noise, this table saw delivers 5,000 RPM cutting performance to rip through various kind of hardwood with ease. And the...
【36 Tooth Blade & Aluminum Tabletop】Coated alumium tabletop with 26" rip capacity can easily rip through larger wood material and reduce extra friction for smoother sliding. Table saw features36T...
【Double Bevel Cutting & Adjustable Height】Featuring the double bevel cutting from 0-45°, this table saw provides cross cut at 90°--3" and bevel cut at 45°--2-1/2". And portable table saw has a...
【Miter Gauge & Rip Fence】Sliding miter gauge can be adjusted from -45° to 45° for cross cutting. And self-aligning rip fence with parallel guide on both sides assists the more precise and stable...
【Ergonomic Benchtop Table Saw】On-board storage system is convenient for your wrench and push stick when not in use. The on/off safety switch is available to control table saw stand and provide...
Sale
Evolution - RAGE5-S Power Tools RAGE5S 10" TCT Multi-Material Table Saw, 10
The 15A optimised gearbox and blade system increases motor and blade life to cut through a variety of materials including steel, aluminium, wood, even wood with embedded nails and plastic, all with...
Rip cutting, assisted by an adjustable, full-length, parallel fence with measuring rail guide ensures reliable smooth square cutting every time. Set the blade to the desired angle up to 45 degrees...
Raise and lower the blade height for trench cuts with this folding table saw. Achieve 3-1/4 in. depth of cut at 90° and 2-1/4 in. depth of cut at 45° bevel.
The included 28T Japanese TCT saw blade (tungsten carbide tipped blade) allows the table saw to cut effortlessly through steel, aluminium, wood with embedded nails, plastic and more
For added safety, the included push stick offers safer operation when handling off cuts and the huge saw table features left and right table extensions to support wide work-pieces with a table surface...
DEWALT FLEXVOLT 60V MAX* Table Saw, 8-1/4-Inch (DCS7485T1)
Flexible - power of corded. Freedom of cordless. The world's first battery that automatically changes voltage when you change tools
24" of Rip capacity for ripping 4x8 plywood or osb sheets
Rack and pinion telescoping fence rails make fence adjustments smooth and accurate
Metal roll cage base offer greater durability than plastic Bases
Power-loss reset prevents accidental re-starts following a power disruption when the switch is left in the "on" position
Rousseau 2790 Table Saw Stand for Larger Portable Saws (REPLACES: Rousseau Model 2775)
Fits Larger Saws: Dewalt DWE 7490, Bosch 4100, Bosch GTS1041A, Makita 2705, Rigid R4513, SawStop JSS
Increase rip capacity to 27"
Includes T-Style locking fence for accuracy. Self-Adhesive Tape Measure For Accuracy
Micro Adjust Assembly for Quick & Accurate Saw Positioning
Optional accessories include: Model 2720 Outfeed Table, Model 2790-EXT Extension Table, Model 2790-RXT Router Extension Table