Backyard barbeque plays an integral part in the American culture. Regardless of the size of your house and patio, you will not run out of options when shopping for grills. But since gas is more convenient when controlling heat than using charcoal, we'll help you find the suitable 2 burner gas grill. The 2 burner gas grill can help you cook more batches of burgers in record time with even heat distribution. With innovative cooking technology, your menu ranges from cheeseburgers and steak to healthier grilled ratatouille salad and more.  So, below are some of the great gas grills with 2 burners that you can check out. We also included the things to look for when you're shopping for the best 2 burner gas grill. Most importantly, you can use this guide when shopping online or on physical stores.
6 Top 2 Burner Gas Grill Reviews For 2022
Weber Spirit II E-210 2-Burner Liquid Propane Grill
With a 10-year warranty, this 2-burner gas grill model from Weber comes with a GS4 Grilling System. As the Editor's Choice, it sets a standard in the world of "backyard cuisine". Its innovative grilling features are based on Weber teams' over 3 decades of grilling experience, culinary experience, and customers' demands. Each part of this GS4 is uniquely designed to provide a hassle-free and satisfying grilling experience.  Its superb burners grill food evenly and consistently while ensuring a hassle-free cleanup. It features an infinity ignition, burner tubes, flavorizer bars, grease management, easy-to-access tank and more.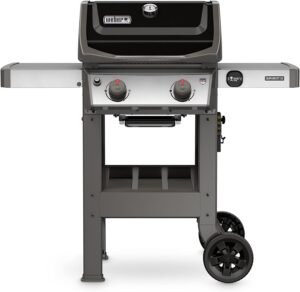 Features and Specifications: 
Weighs 103 pounds with 57 x 48 x 26 inches dimension when the lid is open and 44.5 x 48 x 27 inches when the lid is closed
Releases 26,500 Btu-per-hour input on its 2 main stainless steel burners
360 sq. inches primary cooking area with 90 sq. inches warming rack
Liquid propane fuel type compatible with 20 pounds gas tank
2 side tables with 6 tool hooks make the cooking and preparation less hassle
1 AA battery keeps its GS4 infinity ignition working smoothly
GS4 porcelain-enameled cast-iron cooking grates are combined with a porcelain-enameled lid
GS4 grease management system reduces the mess when cooking
Available in 4 color options for lid colors, customers can easily choose from classic black to striking sapphire color. We also like that it has a built-in fuel gauge where users can monitor the amount of gas left in the tank. The warming rack also comes in handy to keep the food warm while others are still on the grill.
Pros: 
Compatible with iGrill 3 accessories
Includes a built-in thermometer and a fuel gauge
Comes with a fold-down 38 inches left side table
Constructed with an open cart design and durable wheels
Functions with a stainless steel heat deflector
Cons: 
Some parts were not properly machined to function smoothly
The heating is a little off with uneven flame and hot spots
Char-Broil Performance 300 2-Burner Cabinet Gas Grill
From the Performance Series of Char-Broil, this 2 burner gas grill is packed with a lot of new grilling features. It is designed with a sleek black lid and a spacious cabinet to keep some of your accessories and tank. Made to last for years, this grill is designed with porcelain-coated cast-iron grates that are rustproof and hassle-free to clean. Also, it is built with an electric ignition for a convenient startup and removable porcelain-coated grease pan. You won't even have a hard time cleaning it to make your job easier.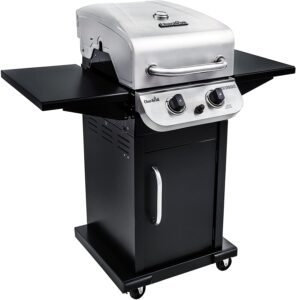 Features and Specifications: 
Weighs 82.5 pounds with 24.5 x 44 x 42.9 inches dimension
300 sq. inches primary cooking area with 100 sq. inches warming rack area
Releases 24,000 Btu-per-hour input on its 2 stainless steel burners
Functions with innovative convection cooking system with stainless steel heat tent
Cast iron grate material coated with porcelain to ensure its longevity
Electric ignition allows it to have fast and reliable startups
Lid-mounted temperature gauge provides additional heat control
Removable porcelain grease pan allows a hassle-free cleanup and replacement
2 fold-down metal side shelves increase the work and preparation space
Char-Broil has been around since 1948 which helped it become one of the most popular brands in the industry. Its high-quality cooking grates reduces its rusting to guarantee its stellar performance.
Pros:
Budget-friendly
Provides a convenient access storage cabinet to store accessories
Can fit in a standard tank inside its cabinet
Sits on 4 durable casters for ease of maneuverability
2 wheels can be locked for stability
Cons: 
Takes a couple of fiddling to get the grill working sometimes
Lacks enough space between the stainless steel flavorizer bars and 2 burners
Char-Broil Classic 280 2-Burner Gas Grill
If you want a lightweight gas grill that you can easily move around, this small propane grill is ideal. Though it has a very limited grilling space, its compact design makes it easier to bring anywhere. Its in-line stainless steel burners provide an even heat within its 280 sq. inches cooking grate. Its porcelain coat prevents the food from sticking for ease of cleaning. It also has an additional side burner where you can sauté any side dish at 8,000 Btu/hour.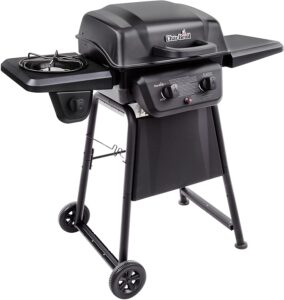 Features and Specifications: 
Weighs 37.5 pounds with 24.1 x 41.9 x 45.6 inches dimension
280 sq. inches primary cooking area with porcelain-coated steel lid and firebox
Releases 20,000 Btu-per-hour input on its stainless steel inline burners
Left side burner warms sauces and side dishes with 8,000 Btu-per-hour while the right side table provides ample preparation space
Piezo ignition system provides convenient burner startups
Convectional cooking system increases its cooking performance
2 pieces of 6 inches wheels increase its mobility
For those who want a porcelain-coated steel lid and firebox, we recommend this model. It's not only rust-resistant but durable so the grill can last for a longer time.
Pros: 
Starts up easily with one push of a button
Side burner complements the food you grill
Durable enough to withstand tough weathers
Allows high to low heat control
Cons: 
The assembly guide doesn't have written directions-just diagrams
The burners have a low output which takes longer for the food to cook
Weber Genesis II LX E-240 Black 2-Burner Liquid Propane Gas Grill
This Weber gas grill model comes with 4 key features that include an infinity ignition, high-performance burners, flavorizer bars, and grease management system. These features ensure that your Genesis II LX E-240 lasts longer with easy and reliable performance. It has the strongest grilling engine among the Genesis II series with a 10-year warranty.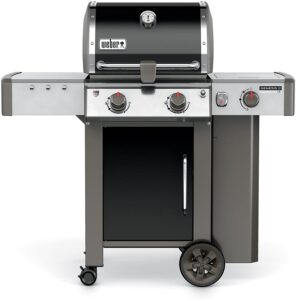 Features and Specifications: 
Weighs 94 pounds with 29 x 52 x 48 inches dimension
Releases 29,000 Btu-per-hour input on its 2 stainless steel burners
380 sq. inches primary cooking area with tuck-away warming rack to toast burger buns or keep your food warm
12,000 Btu-per-hour side burner simmers side dish or BBQ sauce while the main course grills
Stainless steel cooking grates distribute heat evenly across the whole grilling surface
High heat setting quickens the preheat and allows higher grilling temperature
LED fuel gauge allows you to see how much gas is left in your tank
Pros:
Side tables include tool hooks
Built with powerful LED handle light
iGrill 3 Bluetooth ready
Control knobs light up with one push of a button
Cons: 
The wheels are a little fragile
Moderate wind blowing blows out the burners easily
Click Here To Check Price On Amazon
Royal Gourmet 2-Burner Patio Propane Gas Grill
This deluxe gas grill with cast iron firebox houses stainless steel burners and high total BTUs. These burners work together to provide a high, fast, and consistent heat on its cooking surface. Its durable lid has a double-wall liner to retain the heat inside when the lid is closed. The built-in temperature also measures its exact grilling zone temperature. Despite having a stainless steel cabinet with a double-wall door, it's still compact and perfect for smaller spaces.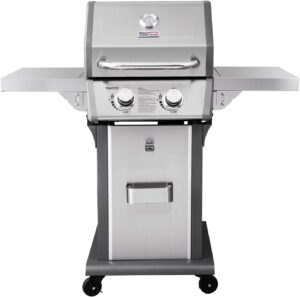 Features and Specifications:
Weighs 66.1 pounds with 45 x 22.4 x 44.5 inches dimension
Releases 24,000 total BTUs with stainless steel control panel and automatic ignition system
310 sq. inches porcelain cast iron cooking grates with 107 sq. inches porcelain coated warming rack
Folding stainless steel control side shelves provide more space and convenient storage
Built-in thermometer makes it easier to monitor the heat
Pros: 
Easy to move with 4 multi-directional caster wheels
Equipped with a bottle opener ring and seasoning basket in the front board
Durable and stylish
Cons:
Packing inside the box needs improvement to prevent damages/dents
Comes with 1-year warranty only
Click Here To Check Price On Amazon
Dyna-Glo DGB300CNP-D 2 Burner Open Cart Propane Gas Grill
Enjoying barbeque at least once a month is no doubt exciting and mouthwatering especially if you have your own grill. In case you have a small space in your patio, this Dyna-Glo gas grill model is an ideal option. It's not only compact but durable as well with porcelain-coated finish. Also, it is integrated with innovative features to so you can enjoy a hassle-free cooking experience with this grill.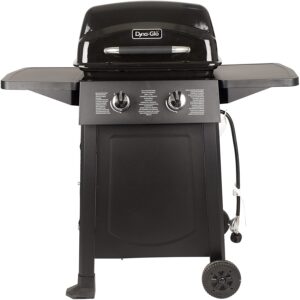 Features and Specifications: 
Weighs 39.2 pounds with 45.1 x 22.8 x 43.9 inches dimension
Releases 20,000 Btu-per-hour input on its 2 stainless steel burners
Provides 449 sq. inches total cooking area and 310 sq. inches primary cooking area with 139 sq. inches warming rack
Cast iron grates with a porcelain-enameled finish
Porcelain heat tents provide an even heat distribution on the cooking surface
Integrated ignition makes it faster and hassle-free to start
Removable grease cup takes care of the mess for ease of cleaning
Pros:
Ideal when cooking for yourself or the entire family/group
Provides an additional work area with 2 large fold-down side tables
Retains an even heat across the cooking surface
Cons: 
The wheels are fragile and made of plastic
Some parts were not properly machined to fit together
Click Here To Check Price On Amazon
What to Look for When Buying a 2 Burner Gas Grill?
The size is usually the first thing that gives a grill an advantage over other models. Whether it is your first time or not to purchase a 2 burner gas grill, consider its size first. Basically, the bigger your grill is the more burgers you can grill. For instance, most small sizes grills can cook up to 10 burgers while medium-sized grills can cook up to 20.
At the same time, larger sizes can cook up to 30 pieces of burgers or more. If you love throwing barbeque parties in your backyard then you better make sure your grill has enough capacity.
Gas grills come with 2 main types of timers which includes the electronic and push button. Regardless of which one you choose, both handle the job of lighting your grill so you can start cooking. However, many customers think that each type actually offers its own advantage.
Grills with electric igniters are quite common in the market since customers find their purpose more reliable. You don't have to exert an external force to light up your grill. One push of the button and spark will automatically generate to light the grill.
If you want to make the most of your gas grill then you better look for a versatile model. Basic gas grills will do a fine job when cooking burgers and hot dogs. But if you want to enjoy some grilled fish and steak too, your grill should have a higher temperature range. The ideal temperature range when cooking a steak is between 130 °F-165 °F to achieve your desired doneness. However, the USDA's required temperature for nutritional safety is 145 °F.
When it comes to grilling fish, the temperature should be set between medium to high heat. Of course, this still depends on the recipe you want to follow but the ideal is between 400 °F-450 °F. If you want to dig on some ribs or roast, make sure your grill passed the indirect-cooking tests. This will cook your meals slowly but surely without burning it by closing its lid to retain the heat.
Excellent Preheating and Cooking Performance 
The Btu/hr is the unit that determines the amount of gas that the grill uses as well as the heat it can create. However, we don't recommend using this as the basis for determining how a grill can sear your steak to perfection. This will not help either if you want to know how fast it could heat up once the fire is on. Instead, check its preheating and cooking performance. If the grill does a great job on passing preheating tests, its chance of cooking your food to perfection is higher.
Burners are the most commonly replaced parts in gas grills. The best 2 burner gas grill can last up to 2-10 years. Those 2 burner gas grills that come with up to 10 years warranty tend to last longer compared to others. When the time comes, replacing your grills' burners will take around 10 minutes only.
If you want a feature that tells how intense the produced heat of the grill is, check its temperature range. Forget those burners with infrared since this feature doesn't sear food better than standard gas burners. Focusing on the grill's temperature range can tell you how high and low temperatures it can take especially for indirect cooking.
Construction is vital whether you're shopping for gas or charcoal grill. Check the assembled grill on every point and check its construction to determine its sturdiness. The more stable it is the better so be sure to examine its lid, cart, wheels, and firebox. Stainless steel carts with seamless construction and welded joints are more durable than painted steel carts with nuts and bolts. Grills with 4 legs and casters are easier to move, especially if the casters have a full axle.
Its stability also matters to prevent it from tipping so test the handle and avoid grills with sharp metal edges/corners. This will not only make it safer to use. Ensuring its stability can also help your grill survive throughout the years.
Conclusion
Are you ready to shop for your gas grill? Take note that there are tons of models out there in the market and choosing one isn't that easy. If you want to get the excellent 2 burner gas grill, don't forget to use this review as your shopping guide. This guide will not only help you save time on narrowing down your search. This can also help you avoid those 2 burner gas grills that are poorly constructed with cheap materials. Always go for those models that offer the best features at a reasonable price.