Best Choice
Second Best
Also Consider
Pactrade Marine Boat Pontoon Electric Anchor Winch 100 ft Rope Freshwater for Anchor Up to 30lbs...
TRAC-Outdoor Products Angler 30 AutoDeploy-G3 Electric Anchor Winch - Anchors Up to 30 lb. -...
Best Choice
Second Best
Pactrade Marine Boat Pontoon Electric Anchor Winch 100 ft Rope Freshwater for Anchor Up to 30lbs...
Also Consider
TRAC-Outdoor Products Angler 30 AutoDeploy-G3 Electric Anchor Winch - Anchors Up to 30 lb. -...
There is nothing better than the feeling of freedom – being on the boat, hearing the sound of waves, and inhaling the fresh air. If you are anything like us, then you will enjoy spending time outside on your vessel, but really hate having to manually lift the boat anchor. This can be quite an excruciating and mundane chore sometimes, not to mention the potential lower back soreness and pain.
Believe it or not, there is a simple solution for this tedious yet important naval task – the electric boat anchor winches. If you would like to learn how to make your boat life easier and save your back from soreness, continue reading, as we bring you the best electric boat winches in 2022.
Top Choices
Up next 5 best choices in 2022. Check it out!
1. MinnKota Deckhand 40 Electric Anchor Winch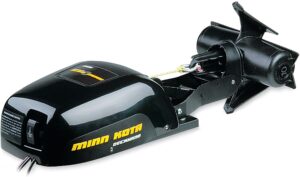 The MinnKota Deckhand 40 is an automatic winch that can be lowered or raised just by pressing the button. The winch, as its name states, has the capacity of a 40 lb anchor. The optimum weight of the anchor should be between 20 and 40 lb. That said, we should inform you that this product doesn't come with the anchor.
The Deckhand 40 is equipped with 100 ft of 800 lb test nylon rope. The generic davit can be mounted at the base of the product and stores the anchor horizontally, keeping it from swinging. An anti-drag system detects the bottom and allows the controlled floating.
The whole system runs on a 12-volt battery that is purchased separately. The overall size is 17 x 14 x 12 in.
Pros
Up to 40lb anchor weight
Long 100 ft pre-spooled nylon rope
2 years warranty
2. Pactrade Marine 35 Electric Anchor Winch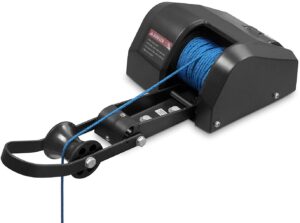 The Pactrade Marine 35 Electric Anchor Winch is a boat accessory winch that retrieves and positions river and mushroom types of anchors. This is done by applying the anchor rope. The power-up, as well as power done movements, are featured in the Pactrade system. The activities are done just by pressing the button which eases up, otherwise unpleasant boat duty. It will submerge the load sleekly in a matter of seconds.
This particular product is an excellent accessory for pontoon boats and is made for freshwater vessels. The internal anti-reverse clutch will keep the anchor from free and controlled spooling. The 100 ft braided rope with the strength of 700lb comes included in the package. A strong motor powered by 12 volts equips the Pactrade Marine 35 Electric Anchor Winch. The product comes with assembly hardware and instructions. The dimensions of the winch are 19.5 x 9.75 x 5.75 in.
Pros
It comes at an affordable price
Long 100 ft braided rope
Cons
It doesn't come with remote
3. MinnKota Pontoon Deckhand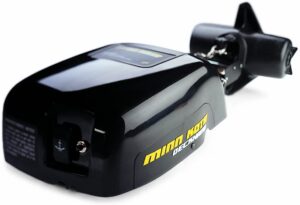 The MinnKota Pontoon Deckend anchor winch is one of the more affordable winches on the market. However, this doesn't mean that you will have to sacrifice any of the performances you like in the MinnKota products.
This anchor winch was designed for anchors up to 40lb of weight. It comes with 100 ft of pre-spooled nylon rope. There is no anchor swing, as the MinnKota Pontoon comes with a davit. The motor is powered by a 12-volt battery. A separate remote can be purchased. The dimensions of this electric anchor winch are 16.5 x 12.5 x 14 inches.
Pros
Up to 40 lb anchor weight
Long 100 ft pre-spooled rope
4. Minnkota Deckhand 25 Electric Anchor Winch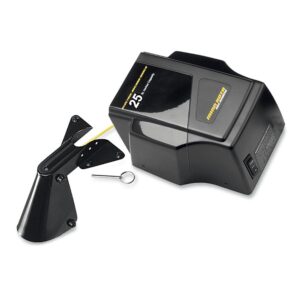 The MinnKota Deckhand 25 is an automatic anchor winch that will lower or raise the anchor of your boat, just by pushing the button. The auto-drift option will instantly stop the winch motor, as soon as the anchor touches the bottom. When the slack in the rope becomes tight, the rope is automatically released. The winch can then be "locked" in place, just by pressing the suitable button.
The motor in Minnekota Deckhand 25 is designed for the 25 lb anchors. The anchor itself is purchased separately. The pre-spooled 60ft long nylon rope comes in the package. The remote mountable davit, which is the part of this boat accessory can stow a wide variety of anchor styles. The winch motor is powered by a 12-volt battery (which is bought individually). The two-year warranty is provided by the manufacturer. The dimensions of the product are 11.6 x 7.2 x 8.4 inches.
Pros
60ft pre-spooled nylon rope
Wireless remote
2 years warranty
Cons
Only up to 25lb anchor weight
5. Trac Outdoors AutoDeploy Angler 30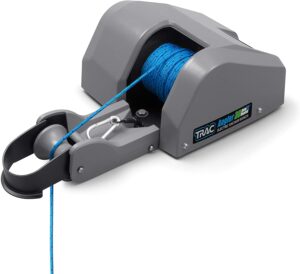 The Trac Angler 30 anchor winch is optimally designed for the anchors up till the weight of 20 lb (the maximum weight of the anchor should not surpass 25 lb). It features the touch and release options. By pressing the button, the anchor is released and powered down. The lowering of the anchor goes silently and evenly. You can go on with other boat tasks, as you don't need to supervise the process.
When the anchor is on the bottom, the winch will start releasing the rope, feet by feet, until there is enough rope. Afterward, they will "lock" and will keep the boat position until you are ready to move further. The instructions are very simple and intuitive. By pressing the IN or OUT, more or less rope is released. In case there is a change of conditions such as sea currents, you can press AUTODEPLOY and the winch will do its job. These three gears will help you control the boat position, for example, when fishing.
Once again, the davit can store the anchor when it's taken out of the water. The anchor will be fixed in place. The helpful wireless remote comes with the Trac Outdoors Angler 30 winch. The dimensions of the winch are 16 x 12 x 8 in.
Pros
Auto-deploy option
Wireless remote -on the pricier side
2 years warranty
Cons
Only up to 25 lb anchor weight
Complete Buying Guide
Alright, so you have seen our best of the best boat anchor winches list. Are you still uncertain about which product will best fit your boat and your needs? Don't worry, we've got your back! Here you can find our short but useful buyer's guide followed by a few frequently asked questions to help you out in your purchase.
There are a few important elements to take into consideration when purchasing an electric anchor winch. These are:
Anchor size
Rope
Remote control
Warranty
Now, we will explain each of these features more in detail.
Anchor size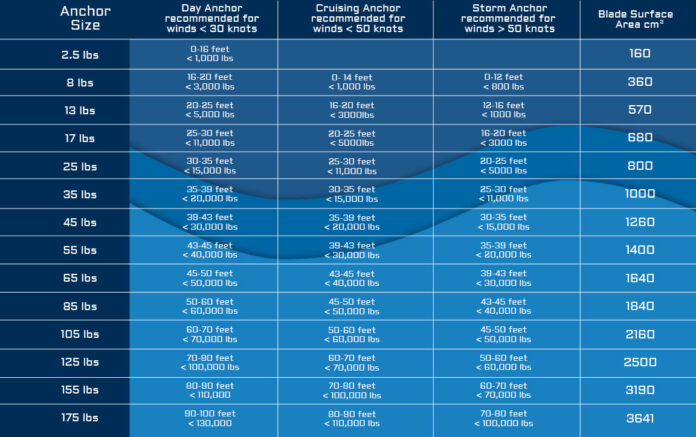 Before making the final decision of purchasing the anchor winch, you should determine the actual size of the anchor.
Should your anchor weigh 40 lb, then, unfortunately, your options are a bit limited. There aren't that many alternatives and available versions. On the other hand, if you have a lighter anchor, anything under 25 lb, your choices are wider as a few manufacturers offer their own model of winches.
Rope
The amount of rope that comes pre-spooled on the winch is another important feature to consider. If your goal is to fish in the deep waters, then 60 ft pre-spooled nylon rope maybe won't be long enough for you.
Remote control
If you can't lay back, relax and pull down the anchor just by pressing the button, consider getting a remote control. Sometimes the remote comes with the winch; if not, there are available options with remotes that can be bought separately. The remotes that work wirelessly are probably the most convenient choice.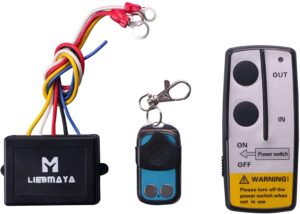 On the other hand, some anchor winches don't have the possibility to be powered by a remote.
Warranty
Most manufacturers of the anchor winches offer some kind of warranty for their products. If you use your boat frequently and set your anchor regularly, make sure that a strong warranty is provided. The motors which pull the heavy anchor in and out of the turbulent water are exposed to friction. This can lead to the motor being prone to breakage more. Therefore you will want to be sure that the product you have chosen.
The length of the provided warranty is something to pay attention to. Different manufacturers offer various lengths. In case no warranty is given, maybe you should give it a deep thought, whether that product is worth investing in. The anchor winches are usually a rather expensive boat accessory. Sometimes you can purchase a warranty from a third party. Marine insurance of your boat or perhaps your credit card company may offer the warranty.
The FAQs
How do you store an anchor on a boat?
Many boats come with an anchor well or other storage compartments. Sometimes they are placed in the front of the boat, whereas sometimes even under the captain's seat.
If this is not your case on your boat, investing in an anchor winch that comes with a davit may be a solution to your problems. Not only will you be free from the mundane task of raising and lowering your boat anchor, but once outside the water it can be fixed on the davit. Therefore no scratching and damaging of your boat will be happening in the future.
Check out the following video and learn how to store your stern anchor:
How do I choose an anchor line?
The rope is an essential part of the boat. Generally, an anchor rode is made of a long nylon rope, followed by a short length of chain and with the anchor at the end. The rope must be nylon. This material is not only durable but also elastic. When the boat is anchored and the waves roll over, the elasticity of the rope is preventing any possible destruction. Both braided and three-strand nylon ropes are outstanding options. If you are looking for a budget-friendly option, the three-strand rope will provide you with greater elasticity. However, the braided ropes are far more flexible, and therefore are a better choice if the rode is fed through a stowage deck pipe.
Now, the length of the rope should depend entirely on the size of your boat, and the depth of the bottom it will be anchored to. There is an unwritten rule that states that you will need 1/8″ of rope diameter for every 9 ft of the boat length. For example, if you have a 26-foot long boat, then you should opt for 3/8″ rope.
How big of an anchor do I need for a 20 ft boat?
Although choosing an anchor in regard to the overall weight of the boar may seem like the right thing to do, the anchors are actually ranked based on their holding power. The holding power is the amount of pulled force that the anchor has to resist in order to keep the boat in place. Wind speed, water currents are just some of the environmental factors that are impacting the holding power.
This said, holding power of 90 pounds is adequate enough to harmlessly anchor a 20 ft long boat with a wind speed of up to 20 mph. This is why choosing the anchor-based only on the weight won't help you make the right choice.
How many types of anchor rodes are there on the market?
There are four different types of anchor rodes: all-rope rodes, rope-chain rodes, rope-chain spliced rodes and all-chain rodes.
The all-rope rodes are mainly used on the smaller boats. These are produced of three-strand nylon. They are light, affordable and much easier to stow than other kinds of anchor rodes. However, this type of rode is not convenient for anchoring your boat among rocks or corals, or anywhere where there is a lot of water movement or waves.
The rope-chain rodes are protected against abrasion by shackling a short lenght of the rope of the all-rope rodes. They will add some extra weight to the anchor. The problem with these rodes is that they are not completely abrasion resistant, as the longer part of the rode is actually only rope. Therefore the weight of the chains will not prevent pulling of the anchor in the horizontal direction. The connection between the rope and chain parts is another problem of this type of rodes.
The third type we have previously mentioned is rope-chain spliced rodes. Many boaters splice the nylon line to the last link of the chain to overcome the aforementioned drawback of the rope-chain rode. This is a technique that was initially developed for self-tailing windlasses.
This way, a very sleek rode is produced, which can easily pass through a chain pipe-much easier than an original braid. It retains more than 90% of the breaking strength.
The larger boats usually have all-chain rodes. As the chain is actually not elastic, special care is to be taken so that the chains wouldn't become "bar tight". Using a little bit of nylon line, especially in strong winds, is crucial. The cons of all chain ropes are the price, need for windlass, and extreme weight. This can interfere with the overall speed of your boat. Many owners of modern and lightweight boats are not willing to make this compromise. Therefore our logical suggestion would be to adjust the all-chain rode. Use the high-test chain that has a length between 60 to 100 ft and spice it to 250 ft of three-strand nylon. This combination is at the same time light enough and exceptionally durable.
If you are still wondering how to install an anchor rode, watch the following video:
Conclusion
Investing in an electric boat winch will save you precious time and effort on the boat. Never again will you have to drop down or raise your anchor. No more potential burns from the anchor rope or heated chains- your hands and your back will be more than grateful.
When purchasing the anchor winch, remember that the weight and size of your anchor matter a lot. Depending on your activities, you should select the length of the pre-spooled rope. A remote is always a good device to have. Sometimes they come with the winch, whereas sometimes they are to be purchased separately. The wireless remotes are powered by batteries and you can control the winch from different distances, even the captain's chair.
The electric boat winches are usually a rather expensive accessory. Make sure to have a warranty. Usually, the manufacturers provide it with the product. However, if no warranty is included in the package, consider getting one from a third-party. In case this is not possible, give it a thought whether that winch is worth investing in.
Take a look at some other related products available on Amazon:
Gradient Fitness Marine Anchor, Kayak Anchor Kit Also for, Canoes, Paddle Boards (SUP), Jet Ski...
FOLDING ANCHOR: Our 3.5 lb 4-fluke folding anchor is compact and convenient. Included is a padded draw string storage bag that is perfect for the outdoor person on-the-go.
CONVENIENCE: The anchor folds into a 12" x 3" size and slips into a fully padded storage bag that will prevent scratches to your board, kayak, or Jet Ski.
MARINE GRADE: The anchor is rust resistant with 25 feet of green/black marine grade rope (7mm thick). It also includes a PVC flotation buoy and stainless steel snap hook for quick and easy...
DESIGNED FOR THE OUTDOORS: From SUP Yoga to fishing from a kayak we've got you covered. The anchor is easy to use, storage friendly, and ideal for environments of any kind. Whether it's sandy,...
BORN IN THE USA – Gradient Fitness is proudly owned and operated out of Rochester, NY. We stand behind our products! Not satisfied with your product? Return it to us within 90 days and get 100% of...
Sale
Crown Sporting Goods Galvanized Folding Grapnel Boat Anchor - Collapsible Spike Hook for Shallow...
GRAPNEL BOAT ANCHOR: A simple, affordable solution to keep your watercraft in place when not in use. For short-term, in-land use for areas with low current
GALVANIZED STEEL: Strong material to withstand extreme weather conditions without breaking or corroding
4-PRONG STRUCTURE: Perfect for securing your boat in heavy weeds, coral, stone, and gravel on the ocean, river, or lake floor
LOCKABLE FEATURE: Before submerging in water, lock prongs into place with a simple twist. When not in use, fold up for easy storing
7 WEIGHTS AVAILABLE: Refer to the size chart to find the best weight for your boating needs
Rainier Supply Co. Boat Anchor Line - 50 ft x 1/4 inch Anchor Rope - Double Braided Nylon Anchor...
TOP-QUALITY ANCHOR LINE YOU CAN TRUST: Keep your boat safe and secure with our durable, double-braided nylon boat anchor rope. Our 50' x 1/4" anchor rope works perfectly with boats up to 18 feet...
MADE TO LAST: Our 50 ft anchor line rope is made from super durable double-braided nylon, professionally whipped, and heat-treated at the throat and bitter end for a strong boat rope. It includes a...
SOFT ON YOUR HANDS AND ON YOUR BOAT: Protect your investment with high-quality double braided nylon rope! Much softer than competitor anchor ropes, our double-braided boat anchor rope feels smooth in...
STRONG & SHOCK-ABSORBENT: Ultra strong double braided rope has a higher tensile strength than other materials! Unlike other marine rope options, these boat ropes allow for controlled stretch and...
MADE FOR BOATERS, BY BOATERS: Founded by boaters in the Northwest, Rainier Supply Co produces premium marine products and boat dock accessories that withstand even the harshest conditions — and live...