Beer dispensers are one of the most important elements of the draft beer system, which will help to bring the serving of this drink to perfection.
The equipment works as follows: Carbon dioxide or nitrogen creates pressure that pushes the beer from the keg through the beer line to the beer tower. Beer lines are in contact with the main line, inside which are glycol (or air) lines for cooling. This allows you to control the temperature of the drink during its transport to the beer dispenser.
Thanks to this approach you will always dispense fresh cool beer with the "right" amount of foam of 2-4 cm.
If you still doubt the usefulness of buying a beer dispenser, then here are three reasons why this equipment should be in your bar:
Customer service will become faster;
Beer dispensing becomes simpler and more convenient for the bartender and spectacular for the visitors.
An effective service combined with a dispensing speed helps increase the volume of consumption of the drink, which will eventually make your business more profitable.
Now that you know all the benefits of using this tool, it remains to decide what size and model of beer dispensers to install in your bar.
We have analyzed the market and are ready to present the most current models that are worth every dollar spent.
Beer Dispensers Types and Styles 2023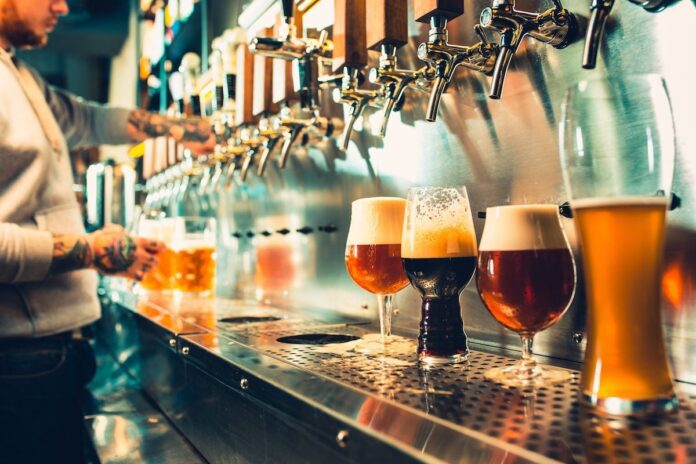 The following beer towers are popular on the market today:
The cylinder dispensers are visually similar to the column, making it easy to fit into almost any interior. This device is designed for installation on the bar counter. You can choose the desired design, finish, and number of taps (from 1 to 3).
Ceramic dispensers also resemble columns and are mounted on the counter. However, due to their material and non-trivial design, they are often installed in retro-styled establishments. You can choose a beer handle with the number of taps from 1 to 8.
Indie towers come in a great variety of finishes: they look like industrial pipes and fit best for bars in a vintage or industrial style.
Euro models offer a wide range of finishes, from classic to steampunk.
Wall Mount beer towers are the perfect solution for establishments with small bar counters. To save space, beer taps are placed on the wall. Thanks to this you can offer your guests a good selection of beer: up to 12 different varieties!
Undercounter beer dispensers are suitable for establishments with small counters where it is impossible to mount taps on the wall. In this case, they are installed under the bar. Using such a device, you will also be able to pour up to 12 varieties of beer.
Pass thru towers are designed for long-drawn bars with up to 16 beer dispensing taps!
T, T-box, and Y models are quite similar, as all these 3 options are T-shaped. They are quite versatile and convenient to operate. All 3 models are mounted on the counter and are designed for dispensing several varieties of beer (from 1 to 12).
Elbow towers are also installed on the bar counter. They differ from the previous model in their L-shape. Up to 5 beer taps can be accommodated on such a handle.
Double Pedestal models are another variant of the popular T-towers, which have two pedestals (instead of one in the standard T-model). These units are suitable for large volumes of beer: you can dispense up to 12 different drinks.
Ice Towers can be cylindrical or visually resemble Pass thru dispensers. Their thing is ice frosted coating, which will make the serving of alcoholic drinks even more spectacular and interesting.
In addition to the beer tower model, it is also important to consider the material from which it is made. As a rule, stainless steel with chrome-plated metal, brass or copper are used for the production. All these materials are scratch-resistant.
You can also order ceramic or porcelain dispensers. They are slightly less durable but can please bar owners with a large selection of original colors and designs.
How to Choose the Right Size Beer Dispenser?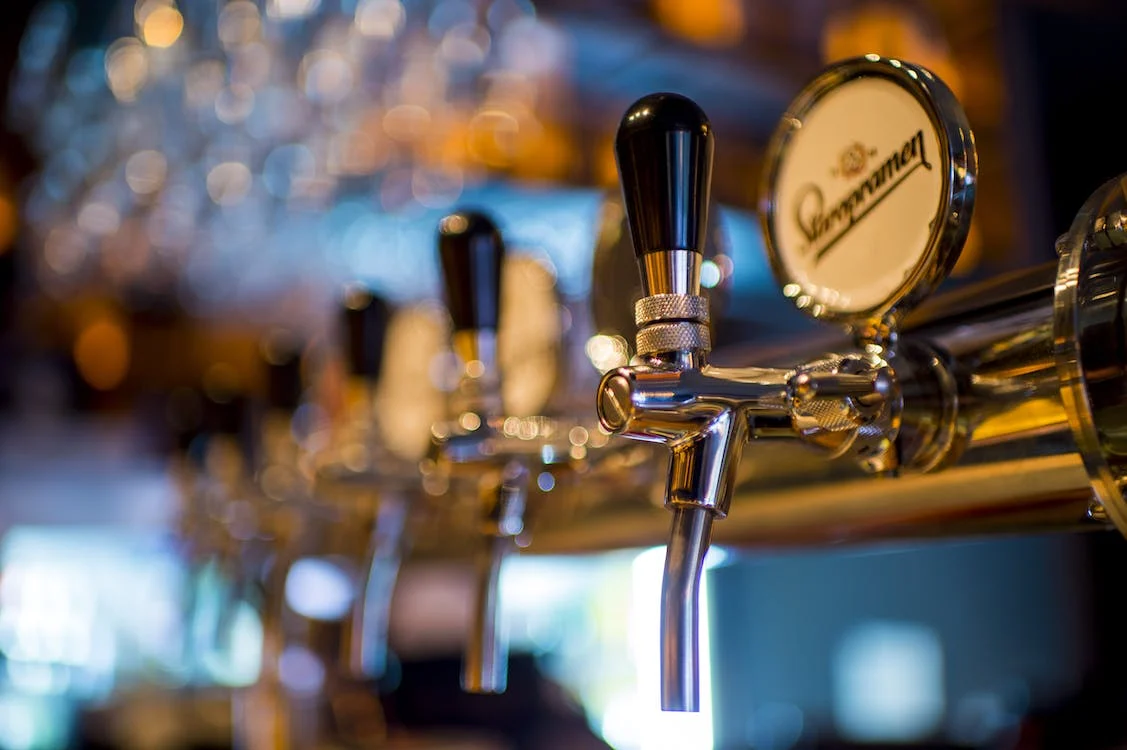 Choosing the appropriate size depends on:
The area of the bar and where you plan to install the beer tower: on the counter, under it, or on the wall. For example, if the bar counter is too small, it is advisable to move the beer tower to the wall. Or install a dispenser with one or two taps on the counter.
The dimensions of the counter (if you plan to install the beer tower on the bar counter). The longer it is, the larger dispenser you can use.
The number of beer varieties you will offer your visitors. The more beer you have, the more taps you should have on the beer dispenser, which, accordingly, will affect the size of the device.
Take for example such a popular model as T-towers.
So, if you choose a 2-tap device, the width of it will be 15 ⅞ inches. While similar equipment for 6 taps has a width of 32 inches.
Beer Dispensers Cooling Options and Their Difference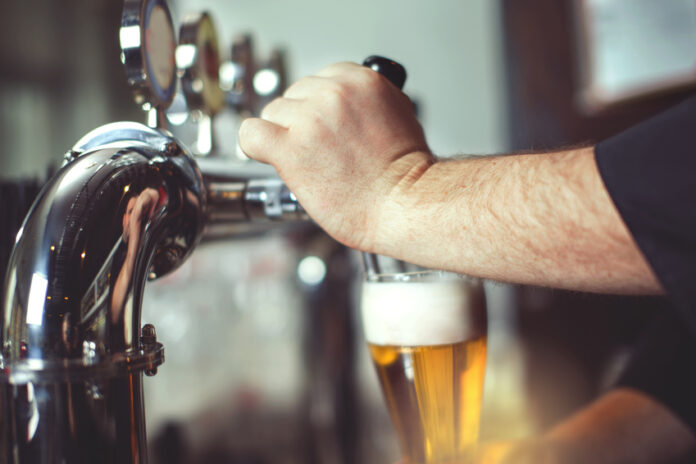 In order for this equipment to dispense a perfectly chilled fresh beer, ensure that a special cooling system is connected to the beer tower.
To date, the most popular on the market are air or glycol coolers. Let's consider in detail both options:
This is the simplest and cheapest system that uses cold air for the conditioning of drinks. This option is good for small bars, serving no more than 5 varieties of beer.
In general, this is not the perfect cooling method: it is not fast and accurate enough.
In addition, this installation is suitable only if the kegs are located directly under the counter. Therefore it will not work where the barrels are installed at a considerable distance from the bar counter.
This option is much more efficient than an air cooler. These systems use a mixture of glycol and water as a refrigerant in a ratio of 60/40, which has the best antifreeze properties.
All this allows you to set a certain temperature during fermentation, reduce yeast activity, minimize the risk of wort caramelization, and cool the drink as quickly as possible under a certain temperature range of 1°C.
Glycol chiller has proved itself in bars with long-draw systems, where kegs and beer taps are located at a considerable distance from each other. The range of this equipment is 25 to 450 feet. In addition, this refrigerant is useful for bars with a lot of different varieties of beer: it can serve up to 16 taps.
In general, we recommend glycol chillers to all establishments that want to be sure of the quality and safety of their product.
Ready to buy beer dispensers and need advice on their choice? Contact Beverage Craft, the company specializes in beer equipment and can offer a large selection of quality devices at affordable prices.
The consultants of the brand will gladly help you to choose the right model and type of cooling, as well as answer any questions regarding the installation and further operation of your beer tower.