It might be surprising to learn that growing up, Bill Belichick's favorite sport wasn't football; it was lacrosse. If Belichick was to follow down that path of his life instead of the one he eventually chose, we might have had a completely different couple decades of football!
Luckily for us, Belichick followed in his godfather's footsteps (Bill Edwards) and became the best coach in the modern era.
Let us explain why this living legend is worth every mention and deserves to be remembered whenever the Patriots play.
Brief Look Into Belichick's Record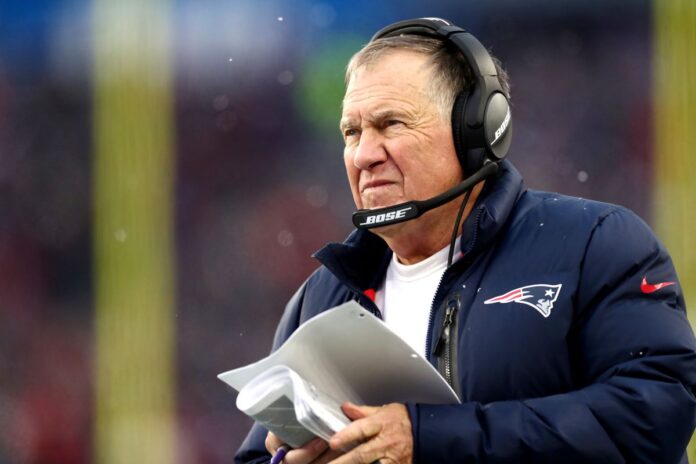 Although Belichick has always had football in his life, thanks to his godfather, it wasn't until 1976 that Bill got his first job as staff assistant to the Baltimore Colts.
Belichick landed this job at just 24 years old, and focused on the team's defense tactics. It wasn't long before Belichick took the lead in this field through a course of events that eventually led him to the New England Patriots.
But we are getting ahead of ourselves. There was a bit of drama for Belichick between this point of his life and where he ended up.
After coaching the Baltimore Colts and leading the defense team, Belichick moved on to the New York Giants. This was when his name started to circulate around the other coaches. Now a defensive coordinator, Belichick has become an expert in his tactics. In fact, after just a couple months of training, Belichick managed to help the Giants coordinate towards a Super Bowl victory!
When this feat happened again in 1990, Belichick was offered his first head coaching job. It was time for him to pack up his things and travel to the Cleveland Browns!
This change wasn't all it was cracked up to be though, as after 6 seasons, the Browns only managed to reach the playoffs once. Belichick was fired, pushing him back down the ranks to an assistant role for the New York Jets.
But this setback didn't knock him down for long. In 2000, Belichick took on the head coach crown again, this time with the New England Patriots. We all know how it has gone from there!
List Of Accomplishments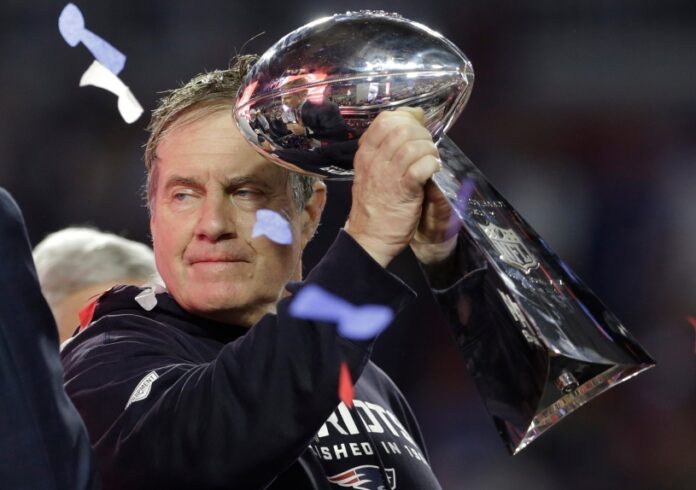 From the beginning of his coaching career until now, here is a list of all of Belichick's accomplishments:
3rd Time Coach of the Year Award
275 Wins total
6 Super Bowl Wins (most of any coach)
68% Winning Percentage
17 Division Championships (most of any coach)
31 Playoff Wins (most of any coach)
Because Belichick started off his career as a defensive coach, you can see that all of his teams have excelled at defensive strategy. However, Bill has battled with the offense tactics too. When Belichick joined the New England Patriots, he decided to play it safe and taught them all he knew about defense.
The team was an instant success, so Belichick waited for them to become experts in their own right before adding in more offensive strategies. In 2007, the offensive skill kicked into play, and the Patriots became the most unstoppable team on the field.
With players like Tom Brady, Randy Moss, and Rob Gronkowski all following Belichick's lead, the Patriots became the one team that everyone wanted to beat. The undisputed A list.
Behind The Scenes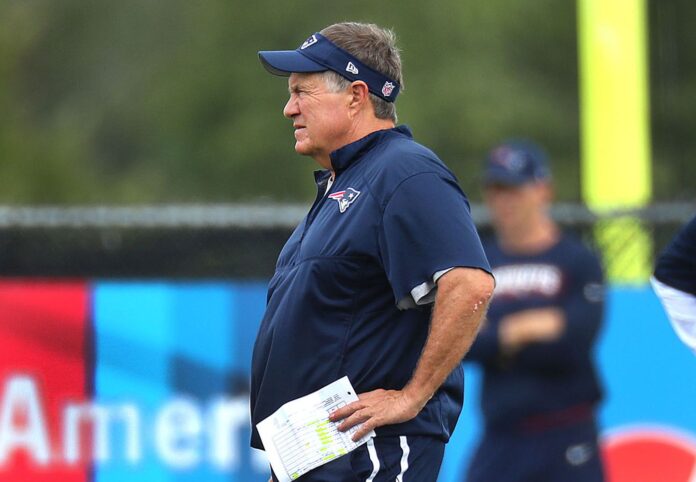 Managing a team is more than just how they move across the field or even how they mentally prepare for the battles to come; there is also paperwork, scheduling, and focus shifting that needs to be organized.
The flexibility of a team is what can help them change patterns and confuse their opponents, and Belichick has mastered it. One of the Patriot's strongest abilities is to flip their playing style on their head when a need to change emerges.
Many teams will have a core group (or an A team) and additional players that might need to be subbed in. Belichick, however, makes sure that every player has a rest and every teammate knows how to move with each other. This allows the teams to shift and reform without breaking stride to create the best community and working ability to the field ahead of them.
Backed up by the fact that most of the team is made of "free agency" players, the Patriots cannot rely on the idea that their players will stay with the team for long. This allows the players to move around the teams without breaking the Patriot's stride.
The tactic might be risky to some, but it has been doing fantastic so far. Since Belichick joined the Patriots, their winning record has improved to 72%, which is the highest winning record in the whole of NFL history. In fact, if you were to look at fanduel.com's Super Bowl LVI betting odds, you'll notice just how strong New England Patriots numbers are!
Belichick's Most Challenging Year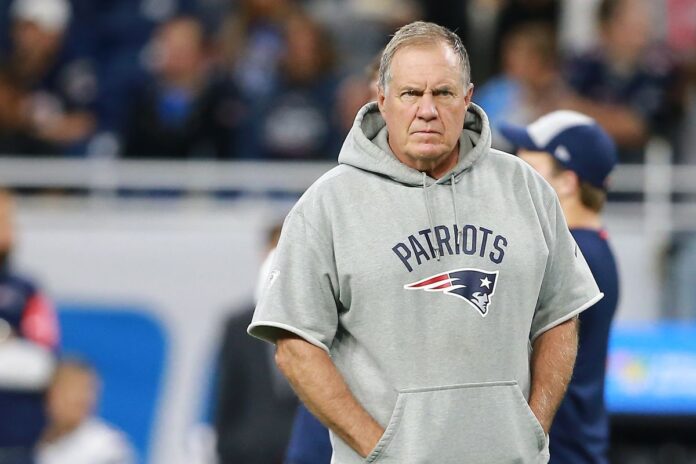 Throughout Belichick's career with the New England Patriots, Tom Brady has been by his side. Brady is a legend in his own right and is undoubtedly the best player of our era. However, in March 2022, Brady left the New England Patriots to become a free agent.
Although the decision might have been right for our star, it created a big problem for Belichick. After the news hit him, the Covid-19 outbreak hit the team, causing 8 other players to bow out of the season.
2020 was becoming the most challenging year in Belichick's career. He was down a star player, and his other phenomenal athletes were infected with the virus. Of course, the outbreak didn't just affect the players; it also made a number on other coaches too. Now the Patriots were down to 8 coaches, all of which had been replaced with people untrained in the job.
The Patriots were not in the same strong position as the previous years, which is why their odds numbers had started to dip.
With the 2022 season behind us all, the Patriots will have to repair all the misery that landed on them. But Belichick is a legend, and even through a worldwide pandemic, he has produced amazing skills in his players.