What you are about to read is a comprehensive review and buying guide on the best vocal effects for live performance. Practically all that you need to know to make a buying decision is covered.
Best Choice
Good Choice
Don't Miss
Also Consider
Behringer Virtualizer 3D FX2000 Effects Processor
Roland VT-4 Vocal Transformer , Black
Boss VE-5 Vocal Performer Effect Processor (Red)
TC Helicon PLAY ACOUSTIC 3-Button Vocal and Acoustic Guitar Effects Stompbox with BodyRez and...
Best Choice
Behringer Virtualizer 3D FX2000 Effects Processor
Good Choice
Roland VT-4 Vocal Transformer , Black
Don't Miss
Boss VE-5 Vocal Performer Effect Processor (Red)
Also Consider
TC Helicon PLAY ACOUSTIC 3-Button Vocal and Acoustic Guitar Effects Stompbox with BodyRez and...
As humans, we constantly want to do better (or at least I hope we do). But these quiddities about us are what make us unique, what makes us different from other humans, helping us build our individualities.
Anything that we perceive will help us do better, that will somehow cover up out inherent flaws is always something that we most welcome.
And in this case, we are talking about our vocals, well, for those who use them for other purposes than talking alone. In this article, we will be talking about the best vocal effects processors for live performance.
Also, we will be talking about the ones that just about anyone who is interested in it would be able to afford, not costing you an arm and a leg. We will be talking about vocal effects processors that are great for both live performances and recordings.
Let us give you a quick rundown of the products that are featured in this article:
| Top | Image | Title | Buy |
| --- | --- | --- | --- |
| 1 | | Behringer Virtualizer 3D FX2000 High-Performance 3D Multi-Engine Effects Processor | |
| 2 | | TC Helicon VoiceTone Harmony-G XT Vocal Effects Processor Bundle with 2 Patch Cables and 6 Assorted Dunlop Picks | |
| 3 | | Roland Voice Transformer VT-4 | |
| 4 | | Boss VE-20 Vocal Performer Vocal Processor Pedal w/ Power Supply | |
| 5 | | TC-Helicon VoiceLive 3 Extreme + (2) XLR Cables + (2) Instrument Cables + XM8500 Microphone | |
| 6 | | Tascam TA-1VP Rackmount Vocal Producer Processor With Antares Autotune | |
| 7 | | TC-Helicon VoiceTone E1 Vocal Effect Pedal w/Power Supply, 2 Free 20' XLR Cables, and a Microphone | |
| 8 | | TC Helicon Harmony Singer 2 (996371001) | |
| 9 | | Boss VE-5 Vocal Performer Effect Processor (Red) | |
| 10 | | TC-Helicon VOICESOLO FX150 Vocal effect processor | |
The Top 5 Vocal Effects Processors For Live Performance
Behringer Virtualizer 3D FX2000
TC Helicon VoiceTone Harmony-G XT
Roland VT-3 Voice Transformer
Boss VE-20 Vocal Performer
TC-Helicon VoiceLive 3
Behringer Virtualizer 3D FX2000
TC Helicon VoiceTone Harmony-G XT Vocal Effects Processor
Roland VT-3 Voice Transformer
Boss VE-20 Vocal Performer Multi-Effects Pedal
There are products that are great options that you will find through the price scale. Their features and build quality get better as you move up the scale.
You should remember that all effects processors that we will be reviewing have way more features and effects combinations that we can run through here.
Read Also: Things To Consider When Buying Vocal Effects Pedals And Processors
Products Reviews
So as to take into consideration those with a tight budget, we will be starting with the low-end models.
1. Behringer Virtualizer 3D FX2000
For a product in its price range, this model has incredible value.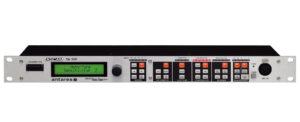 71 breathtaking new algorithms-true RSM (Real Sound Modeling) stereo and 3D effects
Wave-adaptive virtual Room reverb algorithms for natural reverb and delay
Awesome modulation, dynamic, psychoacoustic and EQ algorithms
Authentic amp simulation, distortion and special effects
11 effect combinations with selectable serial / parallel configuration
It just two effects – reverb and delay, although, its delay feature is only for guitars. But these features can be programmed with a wider range of FX combinations so they can produce hundreds of unique sounds.
In the end, you will get effects that are editable like reverb flanger, reverb echo, reverb chorus, pitch delay, tremolo delay, vocoder, resonator, and so forth. You can also preset these for storage and easier access.
The Behringer 3D FX2000 has many complex effects combinations that people who are less technically inclined can find the learning curve to get quite steep.
Pros
It has remarkably strong processing capacity for a value item
It is well built and will last you for years
200 presets that you can edit as you like.
It comes at a great price for everything that it offers
It has no-frills, easy to use interface that is also appealing.
Its knobs are made of rubber and are easy to grip, with solid-feel switches that makes it easy to use.
Cons
It is quite limited on effects
Its instruction manual is not very comprehensive and would need you to go online for more info.
2. TC Helicon VoiceTone Harmony-G XT Vocal Effects Processor
This product from TC Electronics, which is one of the biggest names in the vocal effects processors world, is a vocal effects pedal that you can easily control with your feet.

NaturalPlay guitar-controlled harmony algorithm stacks up to 2 more voices from our flagship processor
Listens to guitar and voice to create the correct harmony parts
6 reverb/delay combinations for vocal and guitar input
10 presets, each with A/B options
Bundle includes 2 6-inch right angle patch cables and 6 assorted Dunlop picks
This product is an intelligent and very versatile effects processor that will give your performances the effect of a full-sized band of guitarists.
It allows you to plug in both your guitar and your vocal microphone, giving you one of its greatest attributes which is automatic harmony generation.
This processor recognizes guitar chords and automatically generates and plays realistic sounding harmonies that follow whatever it is you are playing on your guitar.
You can both record and program your harmonies manually if you do not play the guitar. But your G.chords need to be very clean, if not, you will end up having unintended harmonies that will mess up your performance.
Among its many other features are pitch correction, voice doubling, compression, EQ, and de-essing.
Pros
10 effects presets that each have several individual variations.
Its smart harmonizer gives you an option between both male and female sounding harmonies.
It can work as the effects processor for your voice and guitar, your guitar tuner, and, also as your mic preamp.
It comes with a bypass footswitch that turns off all the effects and the ability to process just your voice and switch off the harmonies.
Cons
It would be better if the pitch correction could be adjusted.
3. Roland VT-3 Voice Transformer
The Roland Transformer is a great vocal effects processor for your money.
This device does exactly as it promises, and its build quality is very robust.

Roland VT-4 is an easy-to-use but incredibly effective voice transformer
Features Modern and retro vocal effects, including delay, reverb, formant and vocoding
Able to layer multiple effects at once or chain them together
Allows totally smooth, instant control over both pitch and formant for real-time tweaking
Compact size and five-hour battery life
Just as the name says, this VT-3 transforms your voice into many cool and fun sounds. It comes with options for auto pitch as well as different effects like scatter, reverb, robot, and megaphone.
You can also use it to change male voices to a female tone and vice versa.
This device is a very versatile device since it serves as a vocal effects processor, a vocoder, and a synthesizer all together.
Pros
It has rubber feet grip on the surface so that the device does not slide around you as you perform.
It has sturdy sliders that you can easily move up and down to control the different effects.
It comes with a built-in autotuner as well as both mono and stereo outs.
There is a USB out that you can use to connect to a computer for recording purposes.
Phantom power enabled, and this means that you can sue it with an XLR condenser mic without having to bother about where you will get power for the mic
Cons
It does not have a mounting bracket that will enable you to attach it to your mic support.
It is difficult to remove the other effects if what you want is pitch correction.
4. Boss VE-20 Vocal Performer Multi-Effects Pedal
With the TC Helicon, BOSS has set the standard in the vocal effects processor business. BOSS is a subsidiary of Roland, which is a brand that is known for making high-quality musical instruments.
2 FREE 20 XLR Mic Cables
2 FREE 18.6 Instrument Cables
BOSS VE-20 takes your voice to a whole new level!
Add lush harmonies to your lead vocals instantly as you sing.
Sing, record, loop, and overdub with the onboard Phrase Looper, inherited from BOSSs
popular RE-20XL Loop Station.
As long as you are familiar with what it is you want and you know how to do it, there is no limit to what it is that you can do with the Boss VE-20.
It has options that let you tweak your voice in numerous interesting ways and is quite easy to use even for starters. There are onboard editing tools available for experienced users.
This device is marketed as a stompbox that was made with vocalists in mind, this vocal effects processor auto-correct your voice pitch and it also automatically adds body and a ton of other cool features to completely transform your vocals.
With this device, you will get the standard reverb, double track, chorus, and delay effects and a whole lot of other not-so-popular ones like strobe, radio, chorus, and distortion.
Pros
It has an onboard Phrase Looper that enables you to layer sounds and helps you produce studio quality tracks on a live stage.
It comes with phantom power functionality that you can use with your mic right out of the box.
It has both the AC and battery power options which are very convenient for when you have to perform in remote places.
It comes with a smart harmonizer that allows you to make multi-part stacks and save them for instant playback.
Instead of small footswitches, this model has fuller rubber pedals that are easy to maneuver.
It is made with high quality – a strong all-metal construction – that makes it great for heavy users.
Cons
Its display is small and quite difficult to see, especially when you perform in a standing position.
5. TC-Helicon VoiceLive 3
Anything that is priced above $500 should be considered high-end for any vocal effects processor.
And so that you can avoid any buyer regret, if you will be spending such an amount of money on a vocal effects processor, you should ensure that it is a trusted brand that you will be getting. And you cannot do any better than the TC Helicon.
TC Box Includes: TC-Helicon VoiceLive 3 Extreme Guitar/Vocal Effects Processor and Looper with FX Automation, Power Supply, USB Cable, Limited 10 Year Warranty
Product Highlights: Three-Phrase Looping, Over 180 Minutes of Looping Memory, Built-In Stompbox Guitar Effects, Vocal Harmony Processing, Guitar- and MIDI Keyboard-Controlled
More Highlights: Pedal-, Fixed-, and Mixed-Harmony Modes, Vocoder with Polyphonic Synths, 180 Styles and Over 250 Factory Presets, Guitar Amplifier Emulations, FX Automation & 24-Bit Recording to USB
This model – the TC Helicon VoiceLive 3 – can store up to 500 harmonies presets, and this is way more than the average musician can go through.
With that, it has an adjustable pitch correction and all the effects like reverb, echo, delay, and other features that you can find on the other TC-Helicon models and two new ones on vocoder and synth.
The vocal effects processor, just like the others in the VoiceLive series, has inputs for both your guitar and your vocal microphone. You can even program it to render multiple effects for both voice and guitar simultaneously.
Pros
It is well built, and it has an expression pedal jack if you think that the footswitches are too difficult to maneuver.
It enables you to import backing tracks from your PC.
It has a guitar in and a guitar "through" that enables you to run your guitar through the VoiceLive 3 while bypassing the guitar effects.
You can turn the lead vocals to zero so that you can output only the harmonies.
It comes with a multi-looper that has a learning curve but it is much fun once you have it all figured out.
Cons
It does not have battery power functionality. What this means is that you cannot use it when there is no AC power.
6. Tascam TA1VP Vocal Producer
If you are in search of a device that can give you some great autotune and you stumbled upon this article, then you have come to the right place. Tascam TA1VP Vocal Producer is the vocal processor for you.


Co-developed with Antares Audio Technologies to bring together everything you need for a polished, modern vocal sound, in the studio or live
The rackmount processor includes a mic preamp, compression, de-essing, mic & tube modeling and Antares famous Auto-Tune pitch correction
Perfect for live performance, house of worship or studio use, the TA-1VP brings your vocal sound into the 21st century
A high-quality XLR microphone input is provided on the TA-1VP front panel, with phantom power for condenser mics
Balanced TRS input and outputs are located on the rear panel, including a Double Track out for simulating doubled vocals
Processing is laid out in simple-to-use blocks, each with dedicated buttons and meters to show exactly whats being done to the signal
The Auto-Tune module can be set for any level of pitch correction, in a variey of user-selectable scales
Quality
This is probably one vocal processor that feels the most luxurious of all the ones listed in this article, and we are confident that there is absolutely nothing wrong with the quality of this product.
Sound Quality
This vocal processor is a tricky one. It is great for autotune, and you can also choose whether you want autotune for all the notes, or for just a particular one, maybe that high note that you seem to always have an issue hitting.
You can also choose what scale you will be singing in, making it easier for it to know which note you are aiming for.
Pros
Great autotune
High quality
Selects specific notes and scales
7. TC Electronics Singles VoiceTone E1
Some artists might go through this list and give a sigh. If you are a good singer and you do not feel like you have to use any special effects, is there any processor out there for you? The answer is yes.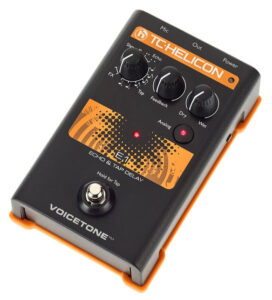 Adds a wide range of echo effects for more depth in your vocals
Footswitch tapping can set echo times to song tempo
High quality signal path and tough enclosure
Can be chained to additional VoiceTone Singles
The Quality
This vocal processor is a sturdy little foot pedal that seems to be of high quality. It has a cool design and it is easy to use since it does not come with too many weird effects that you might not end up using.
The Sound
This is also a tricky one that does different kinds of echoes and it also lets you change your tone and make it either dry or wet. It is good to have it if you are performing in a place that has poor acoustics and you want it to sound as if you are in a church singing.
Pros
It is affordable
It has echo
It is easy to use.
Cons
It is not especially versatile.
8. TC Helicon Harmony Singer 2
If you sing and hit the guitar, then you would love the TC Helicon Harmony Singer 2.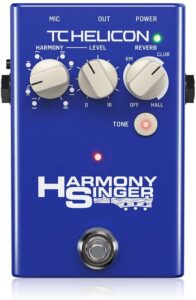 Vocal effects stomp box featuring guitar-controlled Harmony and reverb plus battery-powered operation
Adds one to two voices of realistic vocal Harmony guided by your Guitar
Superb reverb effect with three styles sweetens your vocal presentation
Adaptive tone for perfect EQ, compression, Addressing and gating
Intelligent mic input gain for quick and painless setup
The Quality
There have been a few faulty ones, and a few users have said that they needed to get one a year or so after. But what stands out about this product is that those people chose to get a new one of the same kind.
Another thing is that it comes with a 3-year warranty, meaning that if anything happens to it that is by no way your fault, you will probably be able to get it fixed for free. So you do not need to worry if you decide to give it a look.
The Sound
What is this device good for? This device will tune in to your guitar loop and when you sing, it will provide harmonies that match the chords. It can add one voice or two voices if you want a full sound. You can also choose to add some reverb from three different styles.
Pros
It comes with a 3-year warranty
It can be sued with your guitar
It is a stompbox
9. Boss VE-5
This is an amazing tool for vocalists that want a vocal processing device that they can easily have with them while they are on the stage.
You can easily attach it to the stand, making it easy to use it without distracting the audience much.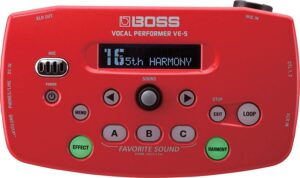 Easy one-touch operation
Six types of high-quality vocal effects inherited from the VE-20 - Reverb, Delay, Double/Harmony, Dynamics, Pitch Correct, and Tone/SFX
Phrase Looper adds impact to real-time vocal performances, including harmonizing and layered beatboxing
Quality
There really hasn't been any bad reviews of this product, meaning that it is a high-quality product.
Sound
This vocal effects processor gives a lot of opportunities to help change your tone by helping you add some reverb, delay, harmony, dynamics, pitch correction; and it also comes with a loop station. You can also get radio voice, robot voice, and a scary sort of distorted hard rock voice.
It makes your voice sound a bit unnatural, though, so it is best for music genres like pop, rock, disco, and other styles and it is less suited for jazz and musicals.
Pros
It comes with a loop feature
It can be attached to your mic support
It has many options you can use to alter your tone
Cons
It makes your voice sound unnatural.
10. TC Helicon VoiceSolo FX150
If you are wondering why anyone would want their voice to sound like that of a robot, or you just can't fathom why you would want automatic harmonies added to your singing when you could easily have someone do it for you, then you just might want this vocal processor.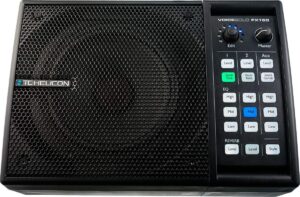 The Quality
It has a decent quality, meaning that it does not break down easily, but there is a common theme among the users who gave their reviews, and that is that the volume is unusually low, and this can be very bad if you are playing in a band and you are trying to make yourself heard over electric guitars and drums.
If you plan on singing with acoustic guitars that are not so loud, then this should be great for you.
Another great thing about this is that you can attach it to a mic stand.
The Sound
As mentioned above, this product does not give any fun guitar effects, but it includes an equalizer and reverb and volume control.
Pros
It is easy to use
It has an equalizer and a reverb.
Buying Guide
What Does a Vocal Effects Processor Do?
A vocal effects processor is a digital device that creates effects like echo, voice doubling, and, also reverb to help improve your vocals when you sing.
It allows you to change the character of your vocals on the go, with just the touch of a button. It even allows you to manipulate the sound of your voice, making it sound like that of a child or a male or female.
The vocal effects processor corrects the pitch of your voice automatically. Most of them come with a harmonizer feature that adds pre-recorded, multiple-part harmonies, and loops to give depth and bulk to your voice. The thing is, all these happen in real-time as you perform.
There is so much that you can do with this processor.
It sits between your microphone using the XLR input and, through its own input and another XLR cable, it sends signals to the mixing board or the PA system.
The sent voice signal is then processed before it is sent to the PA system. The device enables you to get that refined vocal quality you would get only in a studio recording environment.
One of its greatest boons is that it allows you to kind of perfect your vocals in real time as you are performing.
If you happen to be a solo performer, the vocal effects processor is a blessing. It acts like a backup singer and, also a sound engineer.
The only problem you might have with this tool is that it can make people who are already bad at singing start believing that they somehow have a shot at music, although this can be easily resolved with some online singing classes, which you can find here.
Who Needs a Vocal Effects Processor?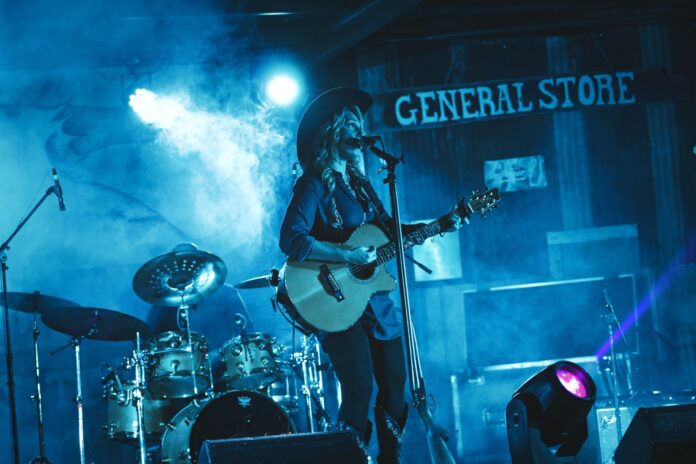 Anyone who happens to be a live performer can find the vocal effects processor very useful.
Purists may cringe at anything that would digitally alter a singer's voice. Many even feel like it is cheating, although, singers like Cher and T-Pain might have different opinions.
You can use the vocal effects processor without you having to sound like a robot or making your vocals sound too digital.
Unless you intend for your performance to be 100 percent acoustic, almost every live performance now utilize some degree of vocal effects processing.
With the use of vocal effects processor, you are basically admitting that your voice could sound much better.
It could be that you struggle to control your pitch, or that your voice is flat and is lacking that 'ingredient' that would make it really pop.
It is apparent that some voices sound better than others, some are just naturally gifted, but the human voice is innately imprecise.
Although, our vocals can be fine-tuned for perfect pitches, perfect harmonies, and smooth note transitions; you know that you cannot rely on your voice to be the same all the time.
Vocal Effects Processors and their Usefulness on the Stage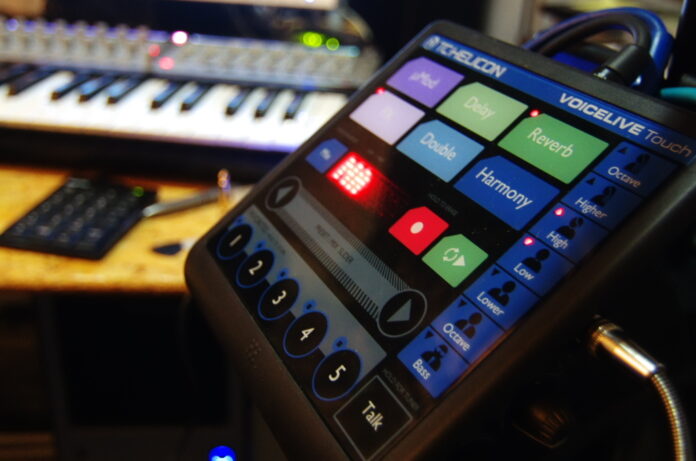 Voice processing is known by a lot of terms like double-tracking, voice doubling, the autotune effect, and so forth.
The usage of the vocal effects processor is, of course, not a new thing; even though singer, Cher, with her wildly acclaimed 1998 hit song, Believe, has been credited to bring the trend to life, other singers like Teddy Riley, Roger Troutman, Madonna, Daft Punk, and many others all had certain amount of successes with vocal effects.
But many of these artists have used vocal effects processing in the studio, which is way easier as producers have all the time to clean and tweak the vocals.
When a singer is on stage, there isn't enough time, and this is where the vocal effects processor comes in.
How Do You Prefer Your Vocal Effects Processor? Tabletop, Mountable, or Pedal?
These three vocal effects types – the tabletop, stand mountable, and the pedal-controlled – are the three basic modes vocal effects processors come in.
The one you choose to go with depends on your live rig setup as well as if you sing vocals and simultaneously play an instrument.
Tabletop vocal effects processors are probably preferred by DJ's and EDM performers because they can easily throw them onto their decks where they can reach them with ease as they perform.
For those who are specialist vocal performers, a vocal effects processor can be mounted in your mic stand and operated with your hands from a standing position.
The pedal ones are known as stompboxes, and they are a favorite for singers that play guitars. They are very convenient as they let you multitask seamlessly, by singing and playing the guitar, while you operate the effects processor with your foot.
But you would need to be very nimble with your feet if the stompbox has multiple footswitches.
In Conclusion
Our Pick
The TC Helicon VoiceTone Harmony-G XT.
The Behringer Virtualizer 3D FX2000 is a good one for everything that it does. It is not a bad place to start if you are new to the vocal effects processing world.
The Roland and Boss VE-20, as is expected of all Roland products, are very well-made pieces of equipment. You won't find many flaws in them.
But the model that will give you greater value for your dollar, according to many users who have used and reviewed it very favorably, is the TC Helicon VoiceTone Harmony-G XT.
Its build quality is very solid. And the voice/guitar functionality, range of effects, and the manual and guitar generated effects options make the price look like the product are too good to be true.
There are quite a lot of worthy upgrades in between, and this includes the Boss VE-20.
But if you want a true upgrade, you would need to spend some extra dollars and get the TC-Helicon VoiceLive 3.
Before you go, check out some other models available on the market:
TC-Helicon Perform-VE
Realtime Vocal Sampler with Midas Microphone Preamp
Stereo 1/4" Outputs
7 Onboard FX
Drum Looper
MIDI Input
ZOOM V6 Vocal Processor
Simultaneously use up to three vocal processors from the voice, harmony and effect sections
Includes highly directional sgv-6 shotgun microphone to isolate your vocal to allow Enhanced processing
Formant shift pedal for adjusting your vocal character in real time
V6 offers 12 voice effects; 10+ studio effects (distortion, chorus, etc.); 3-voice Harmonizer; and over 40 preset Patches
Looper for recording up to 3: 30