Modern exterior doors are an integral element of any modern home. They not only improve the appearance of your home but also provide the necessary comfort, safety and functionality. The right entry doors can greatly enhance the visual appeal of your property and make it more valuable in the real estate market.
As trends in the construction industry continue to evolve, homeowners are looking for new and original ways to upgrade their exterior doors.
This article presents an overview of various types of modern exterior doors, popular colors and best design ideas for 2023. Whether you are renovating an existing property or building a new one, this article will provide invaluable information that will help you choose modern exterior doors for your home.
What Are the Trends for 2023 Exterior Doors?
Every new season offers us both current trends of the past years and the most trendy novelties in the design of doors, which should be taken into account when repairing your home.
All these trends indicate that in 2023, homeowners prefer sustainability, durability, aesthetics and safety:
Glass accents
Glass accents as a trend for exterior doors are a stylish solution that will add elegance and natural light to any home.
This approach will make the housing more spacious and lighter. Besides, glass accents can increase the value of your property if you decide to put it on sale.
You can install models with glass inserts or opt for completely glass doors. Both versions can be custom-made with different designs.
Protruding elements
Doors with protruding elements attract attention with their pronounced, textured shape. The perfect solution for fans of non-trivial design and bold accents!
Oversized doors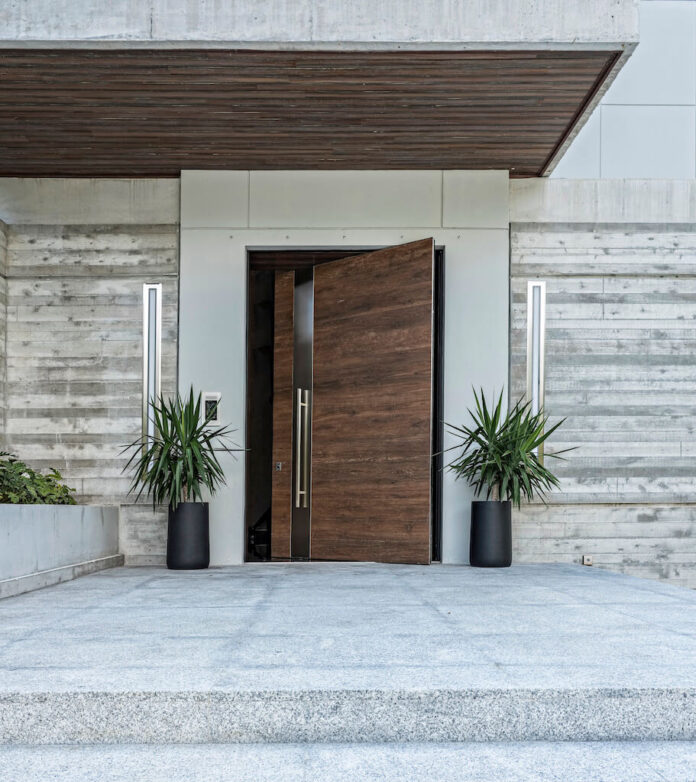 If space allows, install large doors. Such models can be higher or wider than standard products. Ideal solution for buildings where massive doors can highlight the monumentality of your home!
This option is also worth considering for lovers of glass panels: wide door sections let more light into the house.
Lighting
You can highlight all the features of your interior with the help of lighting. We are talking not only about installing ordinary porch lighting.
Spot lamps can create a unique shade pattern that emphasizes all the advantages of your modern exterior doors.
Environmentally friendly materials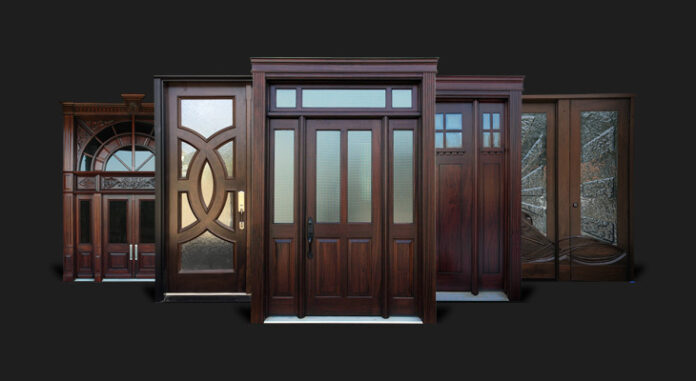 Environmentally friendly exterior doors will be an important trend in 2023 as homeowners become more environmentally conscious.
In this regard, we recommend paying attention to steel and fiberglass.
Steel is a durable, practical and stylish material that will surely appeal to fans of industrial or modern design. It is resistant to fire, moisture and extreme weather conditions (harsh temperature changes, cold or heat).
By installing such door systems, you will be protected from intrusion, break-ins, and damage to your property.
Another advantage of steel products is low maintenance: such structures require minimal care, as they are not deformed, rot or crack like wooden doors. All this makes them a great option in terms of ecology.
The second most popular material is fiberglass. Such doors are durable and resistant to weather conditions, wear and deformation. Fiberglass conducts heat and cold poorly, making it more energy efficient than other materials.
Besides, fiberglass doors can look like wood. All this should appeal to fans of traditional style.
In addition, fiberglass designs have many other advantages: they are very durable and resistant to cracking and do not need any special care, making them a practical choice for your home.
Energy efficiency
It's more than a trend. Today, the issue of energy saving is a necessity, because such door systems will protect you from drafts, high humidity, noise and odors from the street.
In addition, you will be able to control the temperature inside the room: the housing will remain cool in the summer and warm in winter. All this will reduce your costs, and lowering thermal emissions will protect your region's ecology.
Smart Home Features
To make your home even more secure, you can install smart locks with a keyless entry system, remote access control, video cameras and sensors that determine the position of your door (open or closed).
What Are the Popular Front Door Colors for 2023?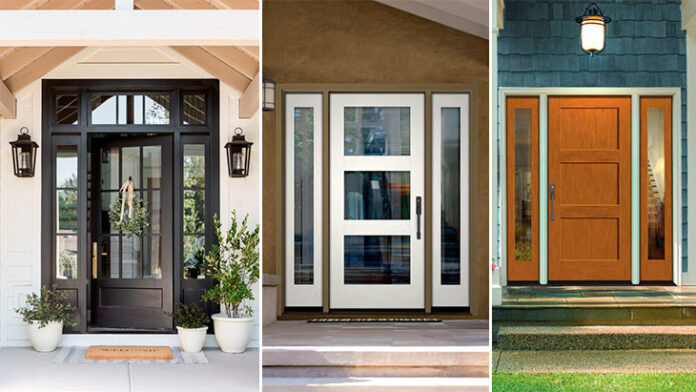 The popular colors of the exterior doors are bright, deep and saturated, such as bright yellow, red and black. This color solution can be used as a bright accent that will make your home stand out from others. Also, pastel shades do not slow down their popularity: creamy pink, light powder blue, lavender, pale green, etc.
If your home is decorated in Victorian style, pay attention to the doors in dark blue or emerald green shades. They will perfectly emphasize the special atmosphere that is characteristic of the Victorian era.
Modern Exterior Door Design Ideas For 2023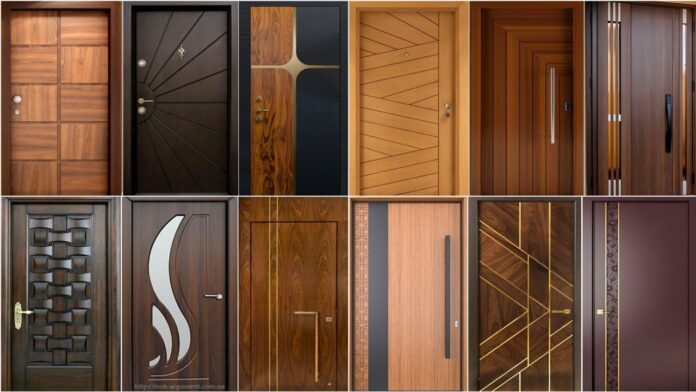 Minimalism is predicted to remain the leading trend in the design of exterior doors in 2023. Homeowners, whose homes are decorated in a modern style, try to support this design by choosing clean lines and concise designs of front entry doors.
As an option, you can install the doors, which are a kind of extension of the wall: stylish, minimalist and modern!
This timeless trend in exterior door design will remain popular in 2023. Such models differ in their rich decorative fittings, the presence of arched openings and stained-glass accents aimed at making an indelible impression on your guests.
The elegant traditional look of the classic doors perfectly complements the various architectural styles, so you can easily choose what will decorate your home.
This style emphasizes the use of various natural materials such as wood and stone, with lots of textured finishes.
Rustic-style doors are often decorated with various decorative elements, such as forged fittings or intricate carvings, which create a warm and hospitable atmosphere and tempt people to cross the threshold of your home. To enhance this effect, place the flowerpots with colorful flowers next to the door.
Windows and Doors company
Specialists have been working in this field for more than 14 years. They know exactly how to install doors so that they serve you as long as possible, remaining elegant, reliable, functional and safe.
This brand follows fashion trends and offers an excellent choice of quality door designs for every taste and budget. Here you can choose the model that will meet all your ideas about the perfect front door.