Living in a small apartment is something most of us have encountered at least once in our lives. Although it is not common in the Western world for a person to live in only a few square meters, as in China, for example, many people still live in one-bedroom apartments or studios. There is certainly not enough space for everything we would like to have.
Sometimes it doesn't matter much to us, if you live in a studio during college, for example. Or you live alone, spend most of the day outside the apartment, there is no reason to rent a three-room apartment and pay a lot for it. Sometimes we are simply forced to live in a small apartment because we do not have the money for something bigger, and even a few of us live in such a space.
Then many amenities have to be sacrificed, but a washing machine is something we must have. And since it's bulky, it's hard to find the right place for it. So keep reading and find out what are the smart ways to fit a washing machine into your small apartment.
1.Put it under the sink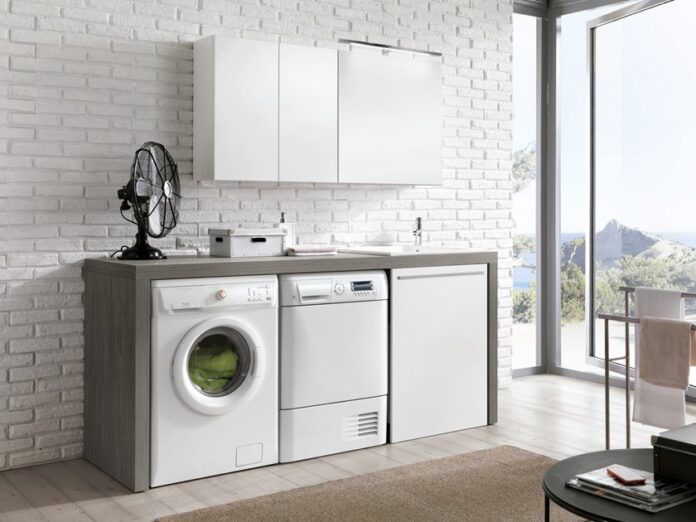 If you have decided to place it in the bathroom, which is the most common choice, you need to find the right place for it. Bathrooms are often small even in much larger apartments, so you certainly won't have enough space. So one of the best places you can put it is under the sink.
If you have a double sink, you can use it for a washing machine and locker. If you want everything to look more beautiful, make a door under the sink, which will hide the washing machine. It is important to measure the cabinetry when you buy it, because often the sizes of the cabinetry and the washing machine do not match. And of course if you opt for a cabinetry with a door, take care that the door will be able to open and not take up too much space. Every inch counts when you live in a small space.
2. Next to shower
This is another smart way to set it up in the bathroom. If you have a bathtub, then this is impossible. But it is very unlikely that you have a bathtub but you probably have a shower or shower cabin. Consider if it might be too big, that is, if even a smaller one could meet your needs. If you realize that even a small shower is enough, then partition it. It can be a wall, but due to space savings, it is best to use a waterproof material that does not require time to install and that will not take up additional space. This way you will save a lot of space and turn the shower into a shower and a place for a washing machine.
3. Partitioning the bathroom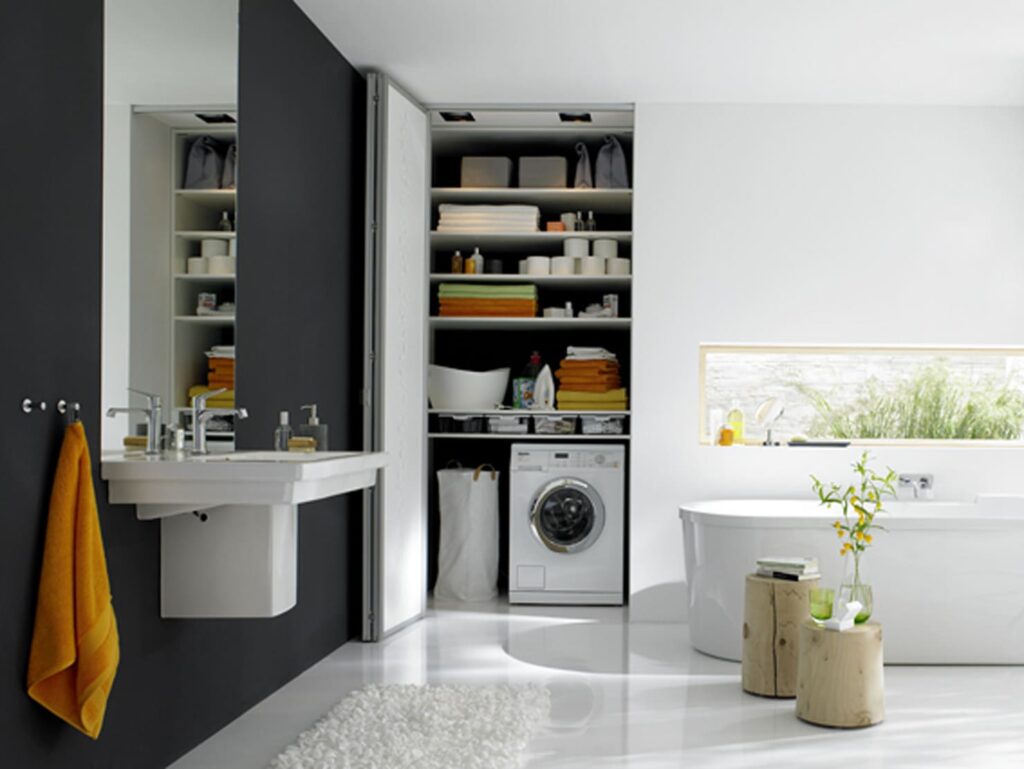 This is third and final option how you can place it in the bathroom. If you can't put it under the sink, or next to the shower, there is still the possibility of partitioning the bathroom. If you have some extra space that you can sacrifice, partition it with a sliding door for example. It will be a very small space where only a washing machine and detergent and other necessary chemicals can fit. Also, if you want to have a tumble dryer, you can put one on top of the other and thus have both without using too much space. That will be you mini laundry room.
4. Put it on the balcony
This certainly did not occur to you. But it can certainly be put there if certain conditions are met. Since it is of course an electric appliance, everything must be dry and insulated. So it is best that it is a glazed balcony. You can also hide it inside the cabinet and so that no one even knows that your washing machine is there, and save space in the rest of the apartment.
5. Top-loading machine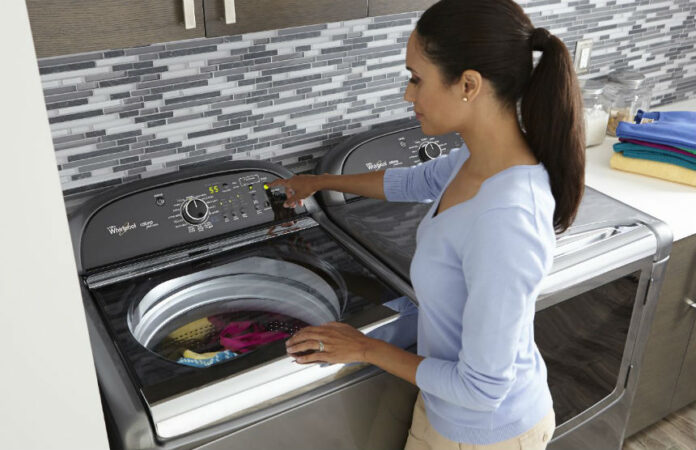 As the name suggests, you load laundry from above into the top-loading machine. While this may not seem like a great way to fit it in a small space, vertical ones are a very good choice. They are usually smaller and most importantly you don't have to leave space so you can open the door. Fill them from above so you can tuck them into a very narrow space that would otherwise remain unused.
6. Portable machine
If you are so limited by space, then portable ones are also a great choice. These are small washing machines, which usually have a little less power, but will certainly fulfill the task. When you use it, you put it in the bathroom so you can put the drain in the shower or sink, and when you don't use it you can put it anywhere. Check this review to find the best portable ones.
7. Under the staircase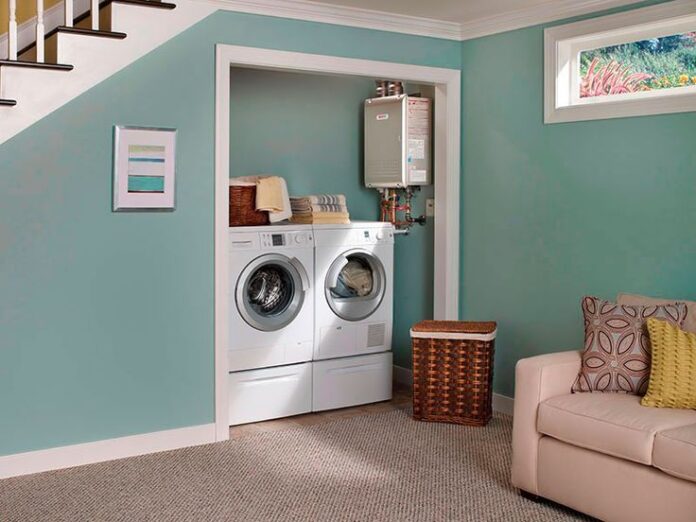 An increasingly popular option is to live in a very small duplex. That way you can use the same square footage much better and if you have a roommate you will have significantly more privacy. Still, the stairs are something that will take up extra space that is already very limited. That's why you need to use the space under them. Put an appliance under the stairs or even install it in the wall under the stairs.
8. Put in the closet
Tall and narrow cabinets are a popular option that is often installed in small apartments. However, they can often be very useless because you cannot put all your clothes and shoes in such a space. So you can remove the shelves and put a washing machine there. It will be well hidden and you will save a lot of space that you can use to add a shelf or closet that will meet all your needs.
Conclusion:
When you live in a small apartment you have to be creative. We hope that we have helped you with these ideas and that you will now reorganize the space much better.