Kitchens are an essential part of any house. They make a house more home and are significantly task spaces where a lot of work is carried out. An ambient lighting layout does wonders for the efficiency of the tasks carried out and helps with improving the mood and health of people working in the kitchen.
Because of the surge of decorative lighting, it gets harder to choose the appropriate light fixture for different spaces. The variety is endless and is quite versatile for any indoor application. It is best to learn the layout of the kitchen and then choose the suitable fixture which accommodates the different architectural elements of the rest of the house as well.
There are usually similar decorative fixtures for any indoor application and it requires just a minor change in finishing, sizing and electrical properties which determines the aspect of lighting.
Types of decorative lights
There are many decorative light fixtures for homes which you can browse here. Most of the ceiling lights come in the category of decorative lighting due to their features and finishes. Some have a discreet appearance while others have both sleek appearance and function. These fixtures vary except they have one core function and that is to produce ambient lighting.
Recessed lights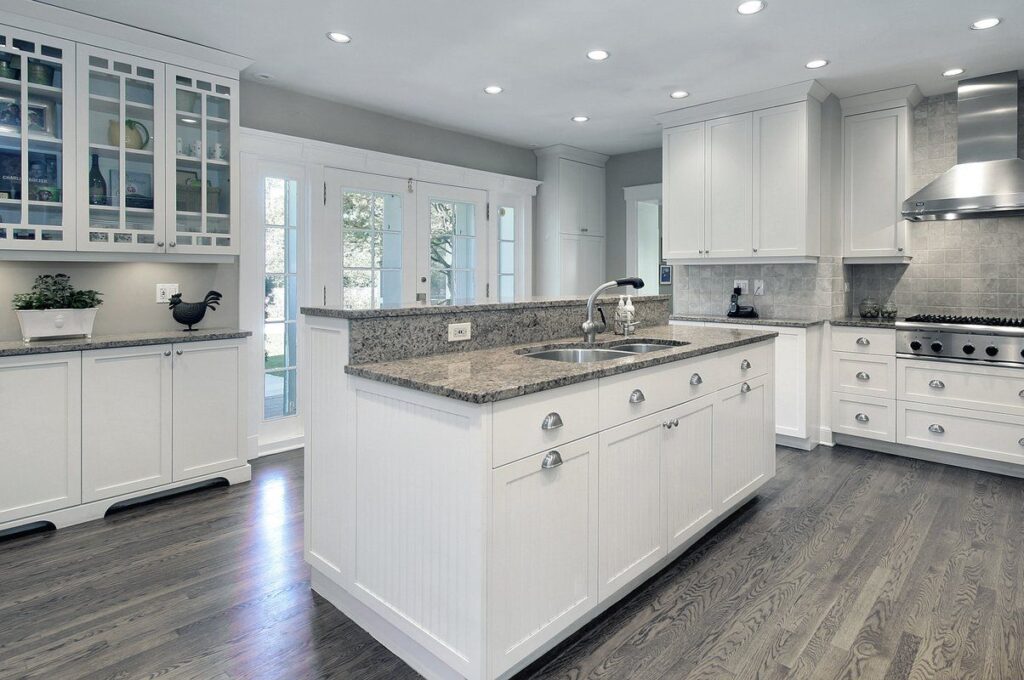 Recessed lights are the most popular form of lighting fixture in the market. These lights commonly go by the name can light or pot lights in Canada. They got the name because of their design i.e. the housing appears and functions similarly as a pot which holds all electrical elements like bulb, wires, lens and trims.
The housing of recessed light sits inside the ceiling while the light projects downwards from the ceiling surface. The trim directs the light out of the fixture due to which different lighting effects are achievable. These light fixtures are competent, innovative and provide a lot of semblance in any setting, including kitchens.
In kitchens, a good amount of light is the basic need but to carry out tasks; overhead bright lighting is equally important for that reason the recessed light fixtures have a variety of trim designs which are rotatable and have adjustable beam angles for efficient spread of lighting over required surface.
These lights are installable in the ceilings and under cabinets or on false ceilings. The housing requires a bit of clearance for maintaining the integrity of the fixture due to heat production and transmission. The different trim designs are:
Open trim
Baffle trim
Gimbal trim
Eyeball trim
Pin-hole trim
Track lights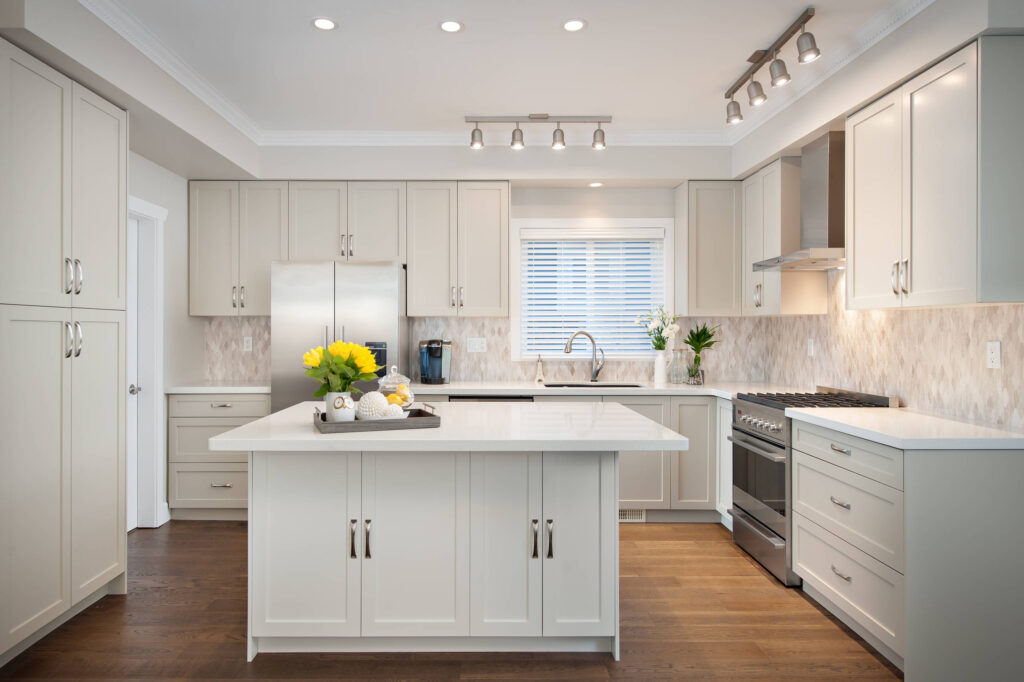 Track lights are a very innovative product of the lighting industry. These lights feature a rod or track which can hold two or more track heads on it depending on the length of the track which is usually 2-8 inches. There are different ways to incorporate track lights other than a rod and they are just as popular except the primary function is to provide enough illumination at different sides or angles. The track heads are adjustable and rotatable around their axis.
These lights have a similar shape as that of a recessed light except they don't sit inside the ceiling and are available in a range of colours, designs and finishes.
Track lights are installable in a kitchen over counters or along the ceiling with other light fixtures as well.
Pendants
Pendants are the oldest form of decorative lighting after chandeliers. They are like chandeliers in function but have a very versatile streak to them and are quite blending in any setting because of their sizing and design. These hanging light fixtures can pair with other decorative lights and create a very natural blend of lighting in any setting, specially kitchens. The ceiling allows room for pendants with recessed lights or other general ceiling lights to create a uniform lighting layout. Pendants are singular or multifaceted and have a cord which extends from the ceiling up to a certain elevation from where the beam angle is adequate enough to illuminate the required surface area.
Under cabinet lights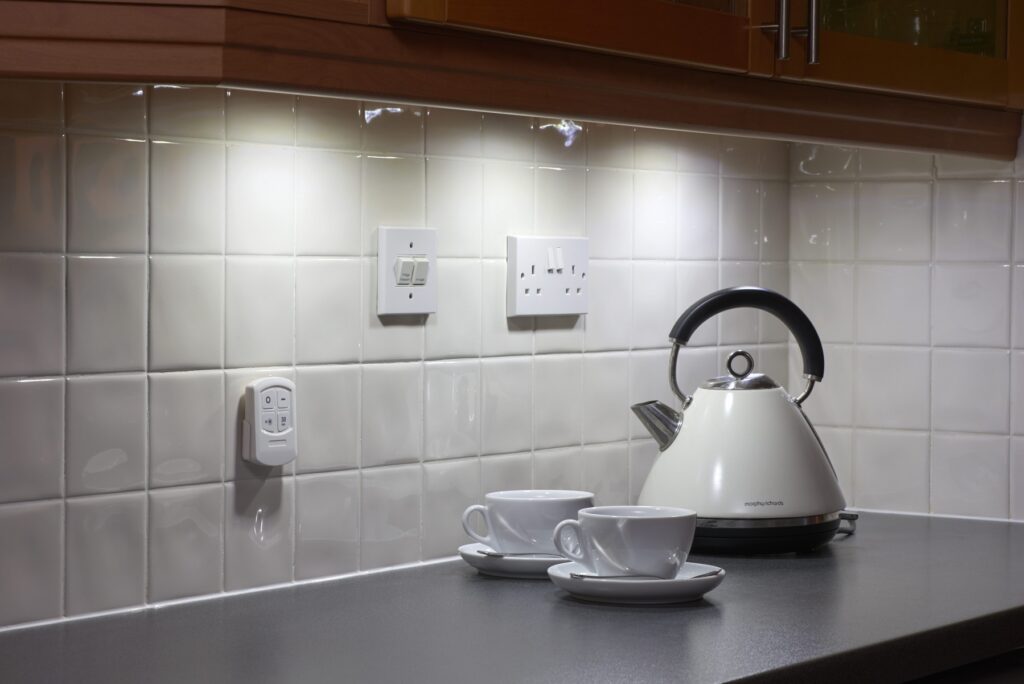 Under cabinet lights are the most popular and designated kitchen decorative lighting category. There are several types of under cabinet light fixtures for various styles. Most kitchen layouts have cabinets right above the counter which partially block the light from ceiling light fixtures. To enhance focus on these task spaces underneath the cabinet, it is essential to have under-cabinet lights. These lights are hard-wired or require electrical outlets for function. They can easily provide up to 1500 lumens and are available in both low and high voltage fixtures ranging from 12V-120V.
Some of the popular designs of under cabinet lights are:
LED pucks
LED pucks are very smart wireless under cabinet lighting technology. They are easy to install and do not require any wear or tear. They install quickly and are battery operated, which allows a lot of convenience and trouble free lighting wherever needed. Battery operated lights do not require any line voltage and have their own efficient function.
Stick lights
Stick lights are another form of under cabinet lighting which is highly convenient as they have a very sleek profile. They are thinner than average lights and basically appear to be a glowing stick. These lights are adhesive, rechargeable and also are installable under or inside cabinets. The length and orientation of the stick varies as per usage and these lights add an element of convenience in the kitchen which also enhances the layout of task spaces.
Bar lights
Bar lights are bigger under cabinet lights, the length and width of the fixture is variable. They can be rectangular and require Hardwire installation which is tacky but beneficial. They are operable on cut down voltage, which enhances their ambient function. These lights have aluminum housing and they are not as customisable as other options.
Strip lights
Strip lights are adhesive strips which carry a light source and the tape or strip glues to the surface under the cabinet. They are clean, customisable and convenient while the length of the strip varies from 5m to 50m or above. Strip lights are excellent for ambient lighting over countertops.
These fixtures add a decorative finishing touch to kitchen lighting layout while fulfilling the requirement of task spaces hand in hand. Installing these fixtures with LED lamps enhances the ability of these fixtures to perform for a longer time and with lower maintenance costs and desired ambience.