Designing your bathroom is both an exciting and intensive task. It requires time, money, all your patience, as well as a fair bit of research and professional consultation. You spend a good deal of private time in there, so you want your bathroom to look and feel its best.
If you're embarking on a bathroom project for your business, sites like Onepointpartitions.com can provide the support needed to meet comfort, design, and functionality standards – creating an atmosphere for your customer that enables them to feel calm. That same feeling of happiness and tranquility is the same that should be evoked every time you enter the bathroom of your home.
Save you time and money by avoiding the following common mistakes people make while designing their bathroom:
#1 Lazy Layout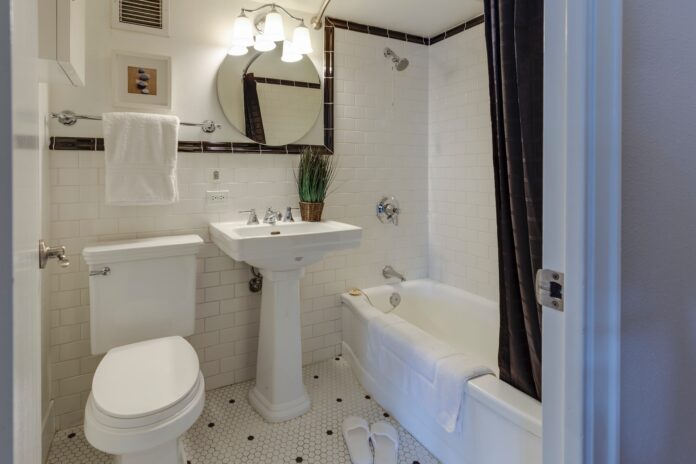 If you are redesigning, try not to move things around too much. The best re-designs focus on specific upgrades and elegance. If you're designing a new bathroom, do some research into the ideal placement of permanent fixtures like the toilet, sink, and bathtub.
If you are designing a new bathroom and want a professional aspect, consider hiring a design consultant.
While planning your layout, imagine how you'd go about your daily routine. What would you like to make most accessible after stepping out of the shower? Where do you want plug points? By imagining how you will move about, you can create a functional layout.
Having the toilet close to the door is one of the worst blunders in bathroom layout design. Make sure you leave enough elbow space on either side of the fixture and that it isn't the first thing in sight when you open the door to the bathroom.
#2 Insufficient Storage
Always overestimate the amount of storage space you'll need in the bathroom. Things like toilet paper, hair care products, styling tools, and laundry detergent tend to pile in there. Make arrangements for adding extra storage space or installing various cabinets.
Do not confine storage to just the vanity set. You'll need storage space near the shower and bath to stockpile hygiene products.
Most people tend to omit linen cupboards in their bathrooms. You don't want to have towels lazily lying around your brand-new bathroom. Also, consider having a laundry basket to put away used ones.
If you're living in a rented house, command hooks are an excellent way to store things without having to put bolts into your drywall. Make the best use of vertical space by using hanging caddies.
#3 Not Having Separate Zones For Different Fixtures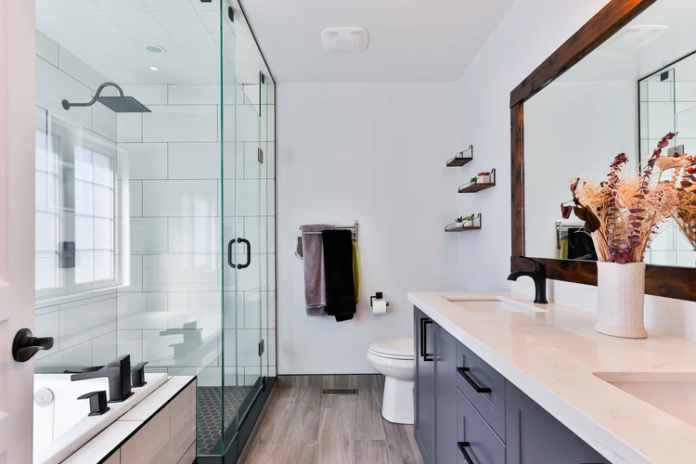 If you have a slightly bigger space and do not plan your zones correctly, you will likely have a messy, erratic experience. You want this private space to be seamlessly peaceful and undemanding.
You can consider having a separate zone for:
showering: ideally with glass doors or a shower curtain to mark the area
the bathtub
vanity and counter
toilet
Having screens or demarking zones not only gives the bathroom a cleaner, more luxurious appearance but also prevents water from getting everywhere and leaving a lingering sense of damp.
#4 Overlooking Ventilation
Proper ventilation is vital for the bathroom. This area is the most humid in the house, making it the ideal breeding ground for bacteria and mold. Make sure you have a good extractor fan installed inside the bathroom. An extractor fan will ensure that no damp or humidity is left behind. This fixture is essential if you don't have a window.
#5 Going Over Budget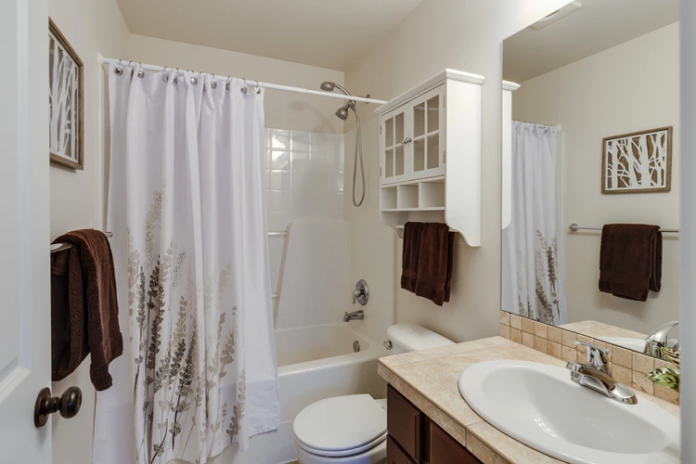 Builders often quote different prices for the same design. The only way to get around and know the value of your project is to consult with several contractors and compare quotes.
Make the best use of trade discounts and vouchers. Visit the showroom, get an estimate of the prices of supplies, work tools, and other equipment. Check your order orders when they arrive to ensure that nothing is broken or damaged.
Invest in essential fixtures like shower valves, ventilation, toilet flush, faucets, etc. Study the ASME B16 34 charts that show the maximum allowed pressure for different materials. The asme b16 34 valves are ideal for traditional bathrooms. Check it out here.
#6 Thinking Too Big And Eating Into Real Estate Space
If you don't have a lot of bathroom space, you are more likely to have a successful outcome when you keep the decor and number of fixtures to a minimum. Use the classic all-white color scheme to give an appearance of space and cleanliness.
Having too many large and incompatible fixtures can ruin the aesthetics and functionality of your bathroom. You might really want a rainfall shower and massage jets, but you have to make sure your water system can handle the pressure.
Having too many large fixtures reduce the amount of open space in the bathroom and gives it a cramped, claustrophobic feel. It can also diminish the value of your bathroom by eating into real estate space.
Designing personal quirks in your bathroom is one of the more exciting aspects. Ensure that you don't go overboard with color schemes, fixtures like cabinets, and storage that lack function.
#7 Not Putting Enough Thought Into Grouting And Finishing Touches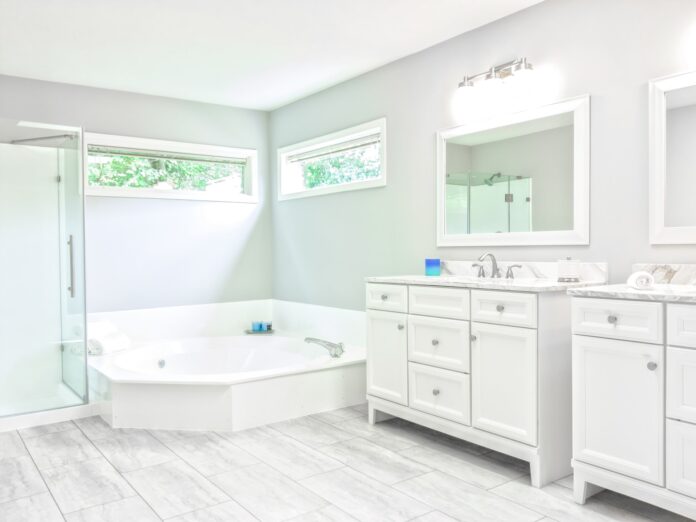 Grouting your tiles is a crucial step in any room in your home, but especially so in the bathroom. Grouting ensures little to no water leakage, which can lead to dampness and mold infestation.
Select a high-quality grout mixture that will future-seal your bathroom. Epoxy grout is more popular because it is more durable as compared to traditional cement grouting.
Besides its protective abilities, your grouting can also make a style statement. A dark-colored grout can make a pattern in its own right; bright-colored grout gives an appearance of boldness and luxury.
In all the frenzy about designing and installing, most people tend to overlook finishing touches. This step includes installing light bulbs, switches, and caulking. Many people like to have trendy rugs and ambient light bulbs for the sake of personalization.
Conclusion
You might have exceptional DIY skills and a fair bit of experience in functional design. Still, you should seriously consider working with a professional. If you need to comply with any building regulations, their expert advice can come in handy.