When it comes to choosing your furniture, you know to look for comfort, durability, and style. However, unlike when you're buying yourself some indoor furnishing, outdoor furniture purchases require you to place much more emphasis on the material. The chairs and tables you place on your patio will have to be able to endure whatever Mother Nature throws their way.
So, what's the best kind of material you can choose? Is it teak, metal, or perhaps plastic?
Unfortunately, we can't give you a singular answer to those questions. Namely, the optimal choice will depend on the weather conditions in your area.
1. So, what to choose when the weather is usually rainy and humid?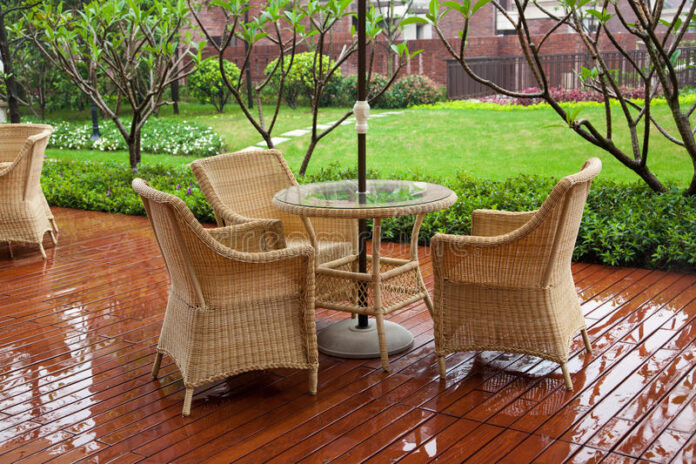 Water and moisture can cause a whole lot of problems for some types of furniture. Most wooden materials aren't a good choice if you live in a particularly rainy area. Wood tends to rot and get moldy when exposed to too much water. Of course, there are some exceptions. For example, teak contains natural oil that acts as a water repellant, which makes it great for humid environments.
Other than that, metallic furniture is also not a great pick for areas with rainy weather. We all know that metal corrodes when exposed to water, so it's a material you want to avoid if there's too much humidity where you live.
Consider getting plastic or sealed wood for the best results.
2. When the weather is hot and dry
High temperatures can cause the wooden furniture to crack and split, so it's not the best choice for this type of weather. On the other hand, metallic furniture such as those made of stainless steel can act as heat retainers, which means they can get quite hot if exposed to the sun for too long.
Also, colored fabrics tend to stain and spot when exposed to harmful UV rays. So, if the weather is extremely dry where you live, you'd want to consider getting some overhead coverings for your patio.
Good materials for these types of weather conditions include resin wicker, teak, cast aluminum, and wrought iron.
3. When the weather is extremely windy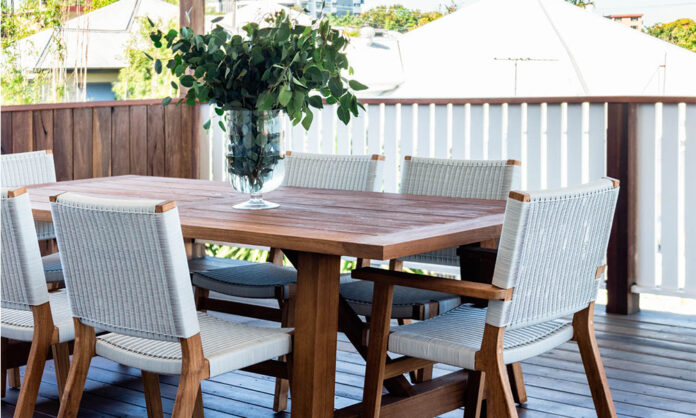 Having to move your entire furniture set inside whenever there's a bit of wind outside would be extremely inconvenient. So, if you live somewhere where strong winds are a common occurrence, you should avoid lightweight materials such as plastic. Instead opt for sturdier, more durable materials like wrought iron for example.
Of course, there are still going to be times where you'll need to carry your chairs inside, but that should only happen when there's a literal windstorm outside. Overall, for windy conditions, we suggest iron, steel, and wood.
4. When the seasonal changes are extreme
Lastly, when there's an extreme difference in weather as the seasons shift, you'll need to choose the materials that can withstand it. If the temperatures change frequently, you should consider getting teak outdoor furniture. While there's no material that's completely weatherproof, teak probably comes the closest for claiming that title. It can withstand below zero temperatures and extreme heat at the same time.
If you want to learn more about this type of furniture, check out this site.
If teak is too pricy for your budget, we recommend getting synthetic resin or perhaps shorea. Whatever you do, make sure to do your research and shop locally! The furniture stores near you are probably already well-equipped with what you need.
5. Consider the aesthetics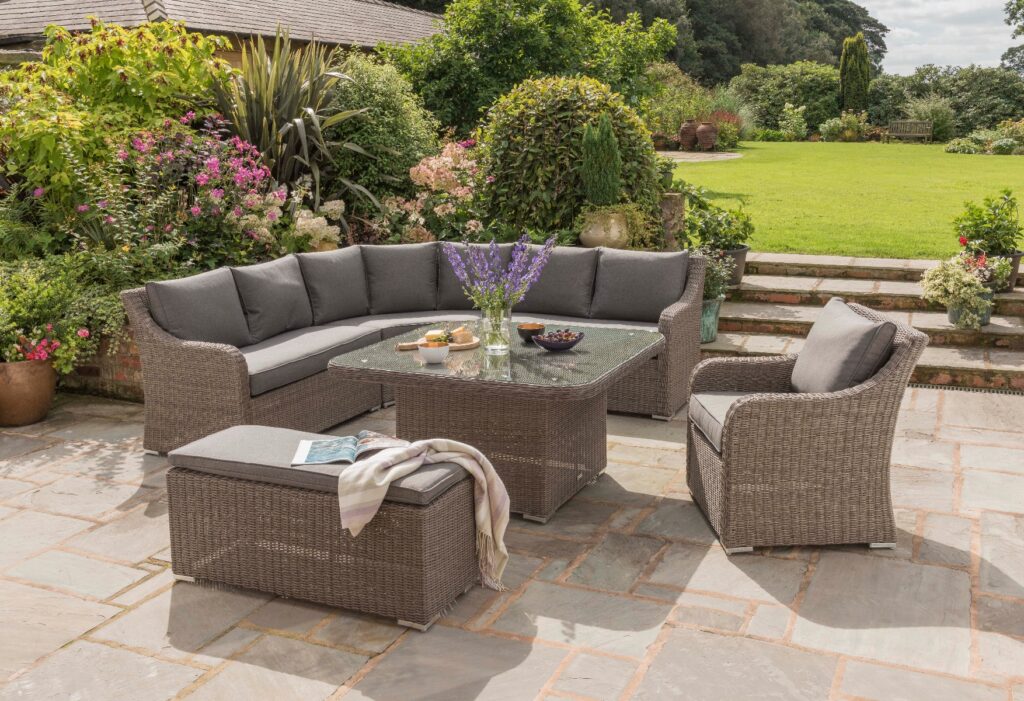 Now, when you know which materials work the best in different climates, you should focus on other factors such as the visual appeal the material provides. Many people argue that wooden furniture looks the best, but that doesn't always have to be the case. Your choice should depend on the overall aesthetic your home already oozes with. For example, wooden materials can look a bit too rustic when your home is all modern and fashionable.
Overall, while the visual appeal shouldn't be your primary concern, it's still an important factor that will affect your final decision. Luckily, with a good design, any material can look extremely good. So, our suggestion is to check which type of material is the best for your climate, and then look for different styles from there.
6. Consider maintenance
If you lead a particularly busy lifestyle, then you wouldn't add furniture maintenance to your already long list of responsibilities. Look for low-maintenance materials such as teak and synthetics!
Naturally, it will all depend on your personal needs. Some people actually enjoy maintaining their outdoor furniture. It can be a relaxing routine, and it's usually nothing too complicated. Rarely any material would require you to scrub it and repaint it every day.
Also, make sure to consider material heaviness too. Difficulties moving the furniture around could make your deck maintenance much harder.
7. Cushion materials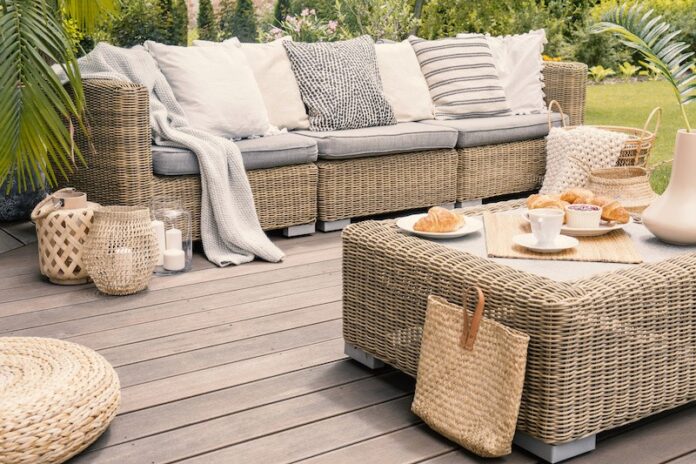 Don't forget to consider cushion and pillow fabrics either! While these are easy to move inside once the weather goes crazy, they should still be of high quality! Consider getting polyurethane foam cushions, as they're extremely durable and weather resistant. Solution-dyed acrylic fabrics are the best choice since they're moisture, mildew, and UV-proof! They also come in a variety of colors and patterns, so you'll certainly find something that completely lines up with your preferences!
Make sure the cushions are comfortable and cozy. Comfort should be your primary concern, as you'll probably spend a lot of time outdoors. Additionally, remember to try the cushions out before buying them. In this way, you'll ensure they're soft and cozy enough to keep you comfortable.
The bottom line
Furniture materials can be sorted into three categories: wood, metal, and plastic. Each provides a wide range of options, and every option has its own pros and cons. Your choice will mostly depend on the climate in your area. Teak and plastic are the best for rainy locations, while iron, steel, and hardwood should be considered when it's always windy. For hot and dry weather, we suggest wicker, teak, and wrought iron.
Overall, we hope this short guide helped you find the optimal outdoor furnishing material for your specific needs and circumstances!