Small and cluttered space can make you feel claustrophobic and frankly unlivable too. But sometimes you do not have any say in the size of a bedroom. The good news is you can make a small space cozy by strategic design.
Designing and decorating a small bedroom can be a bit overwhelming or frustrating. You may feel like you can only squeeze a bed or nightstand while decorating a bedroom. But there are plenty of options to style your limited space.
Forget about all worries and enjoy the teeny tiny setup by decorating your bedroom smartly. Check out some incredibly unique and amazing décor ideas for a small bedroom below:
1. Install Inventive Storage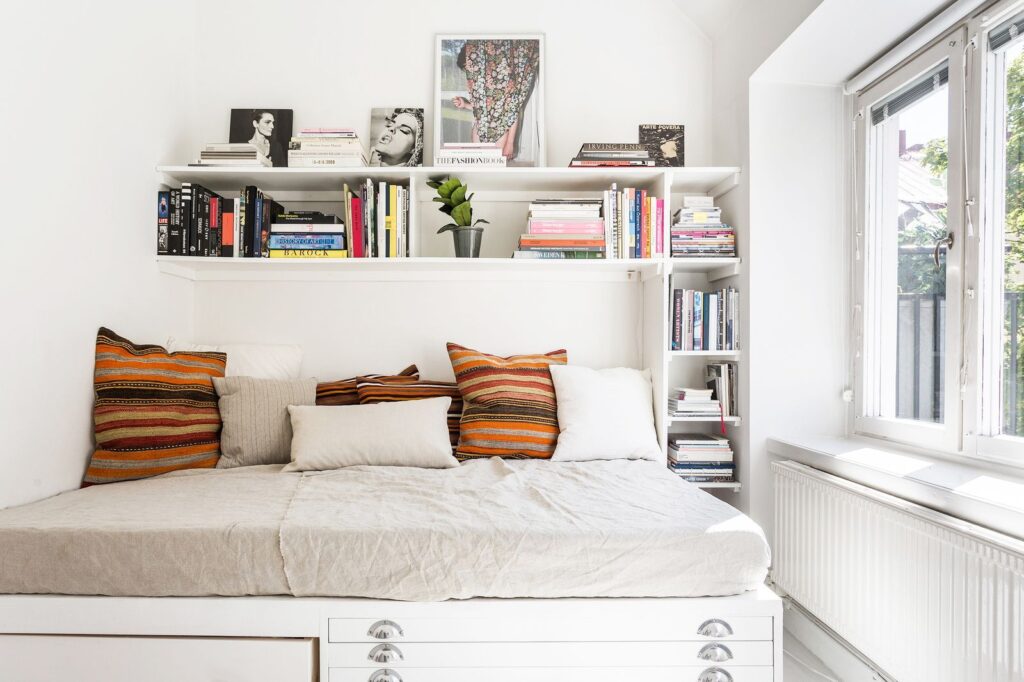 When you have a small bedroom space, you have to think smartly about storage space. For example, you can install built-in drawers and a frame bed with a bookshelf. It allows an extra storage space and place to display decorative items.
You can also consider a bed with drawers underneath. It will give you extra storage space. Sometimes, you do not have enough space to open drawers easily; you can use bins under your bed for extra storage.
2. Put the Focus on an Accent Wall
To decorate small bedrooms beautifully, make a striking accent wall. Then, glam up the bedroom walls with wall art pieces. Wall paintings are the best way to style up the tiniest of rooms.
Just pick one wall, preferably the wall at the head of your bed. Keep the rest of the room subtle in terms of color and pattern. Then, hang a single piece of beautiful wall painting to make an accent wall.
If you are not interested in hanging large art pieces, then create a tiny art gallery of small art pieces. Moreover, small rooms are the perfect place to make a little art gallery. So, shop for some small paintings and prints.
Then display a bunch of them to make an accent wall for an eclectic collection. You can even paint your own small canvases of different sizes.
3. Choose Mounted Lights Instead of Table Lamps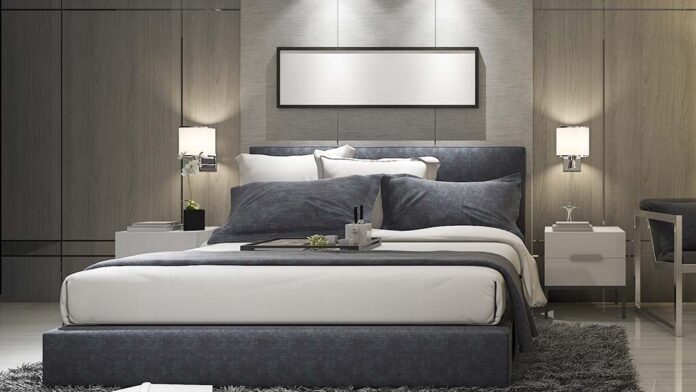 When it comes to a small bedroom, say no to the table lamps or floor lamps and try light fixtures. You can choose the space-saving light fixtures that can hang above your bed.
Ideally, pick those with swinging arms that you can adjust according to your needs. You can make adjustments to direct the light in the downward direction for reading purposes. Also, you can change it or upward for parties, etc.
You can also install pendant lights. They also work well in place of lampshades.
4. Place the bed against the wall opposite to doorway
A bed is that piece of bedroom furniture that takes most of the space and gives a focal point to the room. Once you correctly place the bed, you will find it easier to put other accessories and furniture items.
It would be best to place the bed flush against the wall on the opposite side of the entrance. In this way, it will leave enough space alongside the bed to get up without bumping into other things.
It will also make a room look pleasing to the eyes and clutter-free.
5. Bring the Outdoors In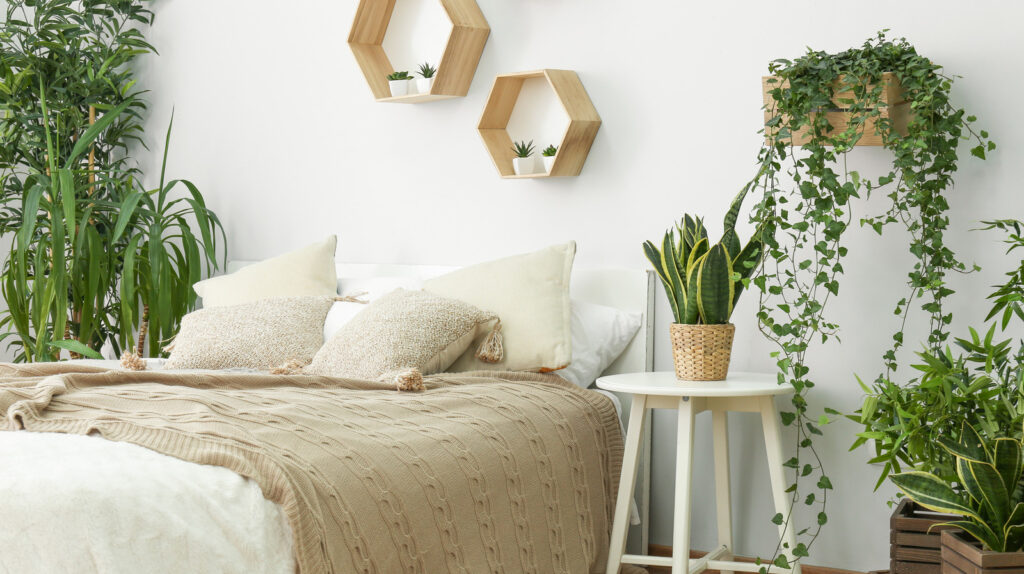 Add some life to your personal space. There is no reason to keep houseplants out of the bedroom. So, make some room in your bedroom for houseplants. You can put something vertical like a fig tree.
Many people skip greenery in small bedrooms. But, they make a room look eye-catching and fill the room. So bring potted indoor plants in the bedroom.
They make the room alive and clean the air. To maximize the surface area, try wall planters or hanging plants.
6. A Storage Closet Under Your Bed
The bed and closet combination will surely delight the younger generation. Climb up to the bed for sound sleep at night, prop up the bed, or open the storage cabinets to reveal closet space.
In this way, you can make sure that there is no wastage of any space. The high shelving makes a sleeping space with a lot of under-bed storage. You can make your room look stylish by throwing an elegant duvet set.
Under-bed storage space adds a valuable aspect to this unique piece of multifunctional furniture. In addition, you can take inspiration from Scandinavian loft to make excellent use of small spaces.
7. Incorporate Big Mirrors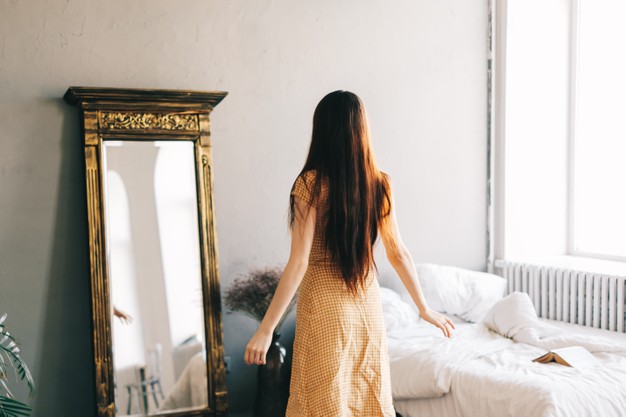 Mirrors can expand a small size bedroom by creating the illusion of a large bedroom. Position a mirror in a bedroom in such a way that it reflects the natural light and installed lights in your space.
The easiest way to incorporate a big size mirror is to lean a body-length mirror against the wall. In that case, you do not need to drill and hang it with the pins. Some people also secure it with the wall for peace of mind.
8. Floating Shelves for Small Bedroom Décor
Do not over-crowd the surface area with lots of stuff. All the bedroom square footage will not make any difference if you crowd it with different items. So keep your room clean by installing floating shelves.
By installing the versatile floating shelves, you can make them useful in the following ways in a small bedroom:
It can act as a nightstand replacement
Make it as an entry table by the door
Use them as a bookcase
Make it look like a laptop desk
9. Use Uplifting Color to Open Up Space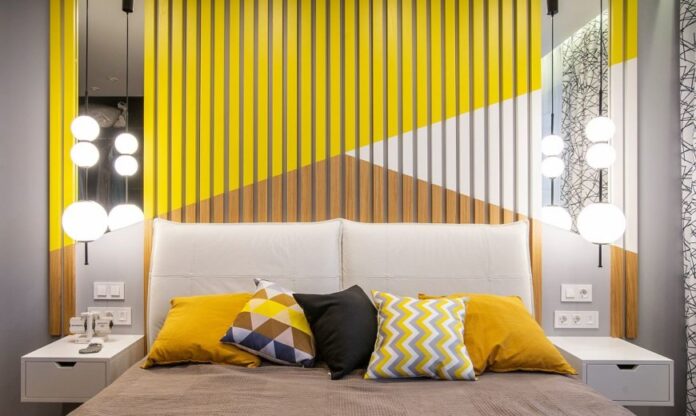 You can glam up the bedroom with an uplifting color like yellow or its shades. It can help to energize the small space. Just be careful while using the paint. Paint the bright color to half the height of the walls.
Or paint the whole room with a similar neutral color as it makes a room look airy and spacious. Then, add a splash of color to determine a tonal palette for bedding, accessories, or floor rugs to add more impact. Again, it will create a cohesive look.
10. Breezy Curtains
Is your room short on windows? If yes, then you can still get things flowing. You just have to hang light-textured curtains to decorate the room. You can smartly replace the closet door with curtains too.
You can also hang the curtains to create a room divider. Either way, make sure to select colors and textures that make your space look good and open.
11. Get a Bedside C-table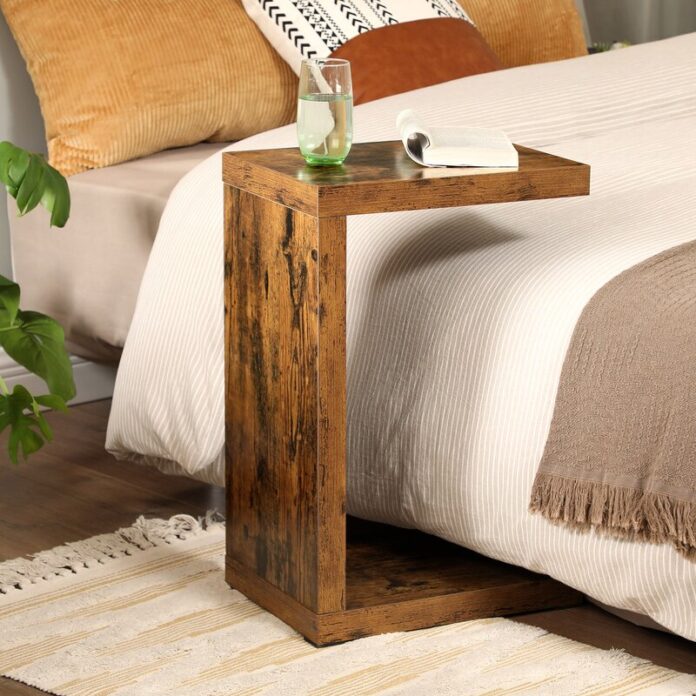 Do you need a workspace but have no room for a laptop desk? If yes, then you can place a C-shaped table in the room. It will help you stash your laptop and tuck it underneath the bed when it is not in use.
12. Display Wall Murals
Murals are one of the cheapest ways to amp up the bedroom walls. They do not take much time in pasting like wallpapers. You can easily paint them, or you can find large-scale mural prints online.
You can hang them on walls in seconds or draw them freehand in minutes. So it is not a time-consuming form of art. People who live in rented apartments can decorate space with murals. That is the best option plus affordable too.
13. Go Boho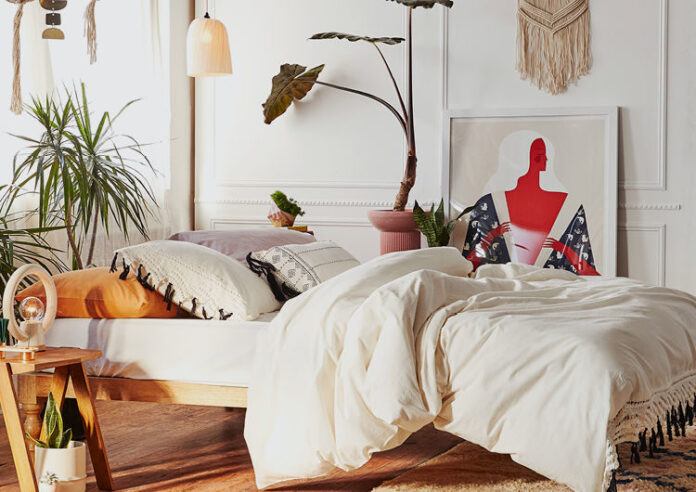 Another beautiful way to decorate your space is to choose bohemian design elements, such as a rattan bed. It is a great way to infuse a personality into a bedroom without having the clutter of décor items.
The rattan bed, a pendant, and a rug are some basic elements to make the room look stylish and complete in this boho theme.
14. Place Your Rug Carefully
You can make a small room look bigger by placing a rug. It adds softness and introduces color, texture, and patterns to tie a small bedroom design together. To decide the size, follow your bed's lead.
For example, if you have a bed in the centre of a room, make sure to slip a large rug about 2/3rd size of the way under the bed. If it is in a corner, put a carpet next to it or below another furniture item.
15. Swap the Bed for a Sofa Bed
When you are short of square footage, try incorporating a sofa bed instead of a traditional bed. Just like a standard mattress, it offers great comfort. You can fold it away to make it look like a sofa, freeing up valuable floor space.
Make sure that the surrounding furniture in a room is lightweight. So, when you want to rest, you can quickly move it aside to accommodate a pull-down bed. If you're into the vintage looks, you can check out chesterfieldsofacompany.com for a custom-made chesterfield sofa bed that fits your preference.
Final Words
If you have a small bedroom, then do not think about sacrificing style and décor. There are plenty of ways to decorate small rooms. But, the key for decorating any room is to find options that best suit your taste.
You must be smart enough to cleverly use the vertical space if you are short of surface area. Moreover, try to reduce the clutter in the room to make it look more spacious instantly.