When it comes to towing, one of the best ways to accomplish this is to have a weight distribution hitch. Whether it is your first time or not to use this tool, it can make your job faster and easier. This is especially true when you're stuck on any rough road conditions during bad weather. This tool distributes the weight of the vehicle equally between the axles of the trailer and the tow vehicle. However, it's only ideal to use when you need to tow super heavy vehicles like RVers. Weight distribution hitches are specially designed for heavy-duty tasks. Once the trailer's tongue weight exceeds the weight specification of your tow vehicle's receiver hitch, this is the recommended tool. So, read on to learn more about the best weight distribution hitch.
Best Weight Distribution Hitch Reviews 2022
Eaz-Lift 48058 Elite Weight Distribution Hitch Kit
This Editor's Choice is a great choice if you are looking for a weight distribution hitch with a complete set. This Elite kit arrives with complete and pre-installed components so you can save time assembling and installing it. It includes a complete slide bar, crank handle, friction plate, spring clips, self-tapping screws, chrome-plated tongue ball, and ball tongue plate. It also includes a maximum of 1000 pounds tongue weight, 10000 gross trailer weight rating, and mounting hardware. With an adjustable ball mount and shank, it is designed to provide a smooth ride using its interchangeable bars. Thus, it can give you a better towing experience whenever you like.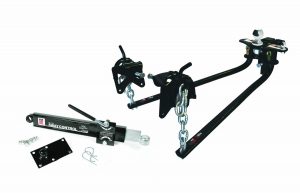 Features and Specifications:
Weighs 96 pounds with 7.4 x 11.5 x 33.5 inches product dimension
Camco 48054 RV 800 pounds elite bent bar weight distribution hitch
Eaz-Lift sway control with mounting hardware and 2.83 inches hitch ball
1000 pounds maximum tongue weight and 10000 pounds maximum gross trailer weight rating
Pre-installed and torqued hitch ball and sway control ball are designed according to specification on an adjustable ball mount
Chain package and U-bolts are pre-installed already on its spring bars
Adjustable hitch has its own clips to secure it in position and a bolt package
48120 bolt together hi-low shank with 2 x 2 size, 10 inches length, 2.5 inches drop, and 5.5 inches rise
Getting tired of shopping around and still come home empty handed? If yes, then it's about time that this model steps out of its shell to satisfy customers. Available in less than $250, we recommend this for those budget-seeking customers. It is made from engineered high-grade steels that have undergone a detailed process to offer convenience to customers.
Pros
Guarantees superior quality and customer satisfaction
Includes pre-installed components and mounting hardware
Involves precision drilling and forged rolled bending to ensure its durability
Constructed under high-temperature heat treat and oil quench to create its benchmark design
Cons
Takes longer to install
Makes a lot of noise
The adjustable bumper inside may tend to rotate which makes the truck's rear to sag
Pro Series Reese 49903 Weight Distributing Kit
Are you looking for a budget-friendly product that can solve your problems in towing? If that's the case then this Budget Pick kit might be a big help for you. This complete kit of weight distribution hitch round bar from Pro Series is available at less than $300. This model is engineered with the latest features that are all included in one kit available at an affordable price. Packed with everything you need, rest assured that its added stability and sway control can prevent your trailer from swaying. It even has an adjustable tension so you can enjoy a smooth ride as long as it is installed properly.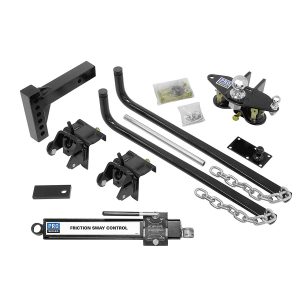 Features and Specifications:
Weighs 101.96 pounds with 7.6 x 12.2 x 34.2 inches product dimension
1000 pounds maximum tongue weight and 10000 pounds maximum gross trailer weight
Designed with complete mounting hardware and black powder coating
Includes pre-installed components that you need to enhance its safety and towing performance
Torqued sway control ball with 2.83 inches hitch ball, chains, and U-bolts
Includes a friction sway control, welded hitch bar, and a fabricated head
Built with solid steel materials that can last a lifetime for heavy-duty towing
Perfect for those travelers who hate spending a lot of their precious time on assembling things, this model is a great choice. It comes with pre-installed components all in a single weight distribution kit. Users can literally use this right out of the box without experiencing a hassle. For its price, we recommend it for budget-seekers who want a quality kit that can last for years.
Pros
Affordable and easy to install
Has a maximum of 10000 pounds load capacity
Designed with an adjustable tension to improve its control
Provides a complete set of weight distribution hitch towing kit
Guarantees an optimum performance
Cons
A little heavy
The stingers are undersized compared with other 2 inches stingers
Not the ideal kit for SUVs or vans
Equal-i-zer 90-00-1000 Weight Distribution Kit and Sway Control
This 90-00-1000 model from Equal-i-zer offers an impressive tongue weight and gross trailer weight. Since it is designed as a 4-Point Sway Control Hitch, you no longer need to purchase a separate sway control device. This model also eliminates restrictions when it comes to backing up and doing a tight turning radius. Unlike other models, you don't have to hook up or take off anything once it is installed. This means that its sway control is already engaged to protect you and your trailer. It also arrives with all the necessary hardware so you won't have a hard time installing it.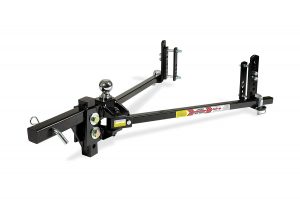 Features and Specifications:
Weighs 102 pounds with 7.4 x 11.5 x 33.5 inches product dimension
2 spring bars with 36 x 1.38 inches size includes 12 inches shank length and 6 inches maximum trailer frame height
Complete with a snap-up lever, hitch pin, clip, patented weight distribution head, space rivet, and washers
1000 maximum tongue weight and 10000 maximum gross trailer weight
The shank allows a maximum of 7 inches rise and 3 inches drop from the top hitch's receiver opening
2 sway control brackets positioning with 27 to 32 inches back from the center of its coupler
Considering that this Equal-i-zer is a little bit pricey compared with other models, its performance is pretty impressive. We like the fact that it can withstand heavy wind and rain which can't be helped sometimes. Even if other trucks are flying by, it can keep the trailer running smoothly especially when maneuvering. Thus, we can guarantee that it's completely safe to use.
Pros
Provides both sway control and weight distribution systems in a single hitch
Fast and easy to install on a wide range of trailer trucks
Uses a versatile sway control bracket for better maneuverability of your trailer
Cons
Pricey compared with its competitors
The 2.83 inches hitch ball should be availed separately
Makes continuous noise and popping sounds whenever you're maneuvering
EAZ LIFT 48054 Elite Bent Bar Weight Distributing Hitch with Shank
With an impressive maximum gross trailer weight and tongue weight, you no longer need to worry about towing a heavy trailer. Perfect for heavy-duty towing, this 48054 from Eaz Lift is a must-have if you're looking for an affordable hitch. It comes with all the necessary parts for a hassle-free installation from hook-up brackets, chains, spring bars, and ball mount. In addition, it also includes its own shank and hitch pin as well as a clip and bolt package. Therefore, adjusting its hitch can be done smoothly.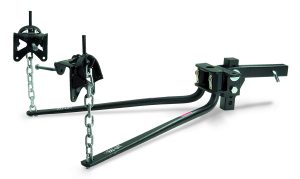 Features and Specifications:
Weighs 80 pounds with 6.9 x 10 x 32 inches product dimension
Works using a positive latching action and fewer parts to assemble
Includes a bolt and ball mounts that you can adjust according to your needs
Sway control system includes a convenient left and right-hand control for adjusting its ball's heights
Built with a maximum 1400 pounds tongue weight and 14000 pounds gross trailer weight
Round spring steel bars that are machine tapered and forged longer provides a smooth ride
48120 bolt together hi-low shank with 2 x 2 x 10 inches dimension, 2.5 inches drop, and 5.5 inches rise
Pros
Affordable and hassle-free to install
The ball mount is fully adjustable
The bars are interchangeable with positive latching action so you can have a flexible operation
Cons
The bars' bottom parts sit too close to the ground and prone to scrapes when installed in vans
Powder coating finish peels off easily
Andersen Manufacturing 3350 Weight Distribution Hitch
This model is ideal if you want to make sure that your weight distribution hitch works perfectly without making loud noises. But aside from performing quietly, it also prevents your trailer from swaying and bouncing by using the latest technology. Its materials are also considered top-notch to ensure is quietest and simplest operation. Thus, this is the best "anti-sway" option with the true motion dampening system to keep it from bouncing around.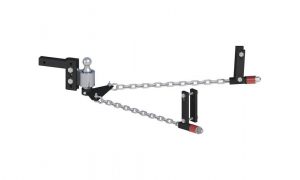 Features and Specifications:
Weighs 52.5 pounds with 3.9 x 11.8 x 16 inches product dimension
Unparalleled sway control automatically adjusts so you can maneuverability easily with 1400 pounds tongue weight
Patented True Motion Dampening system reduces its bounce rate while driving on rough terrains
Includes 2.83 inches hitch ball and a single pin removal from your tow vehicle
Grease-free system keeps its coupler and ball moving as one
Rated at 14000 pounds gross trailer weight when used with a 2 inches rack and 16000 when used with 0.5-inch rack
The shank allows a maximum of 4 inches rise and drop
Universal frame brackets come in various sizes from 3, 4, 5, and 6 inches
Pros
Versatile and stress-free to install without needed any pry bar
Performs quietly with a grease-free system
Functions as a standard ball mount to tow even without weight distribution
Doesn't cause issues when backing up on any terrain
Cons
Others find its initial setup harder than expected
The ball wears out faster which mean you need to replace this part sooner
All You Need to Know About Weight Distribution Hitch
Whenever you need to tow a travel trailer, the suitable weight distribution hitch should be the first thing to consider. This is the best tool that every traveler should have whenever they need to tow a trailer. It's very convenient to use since you just have to set it under the tongue of the pull trailer's bumper. As its name suggests, its main purpose of this tool is to transfer the trailer tongue's weight from the bumper of the towing vehicle to its axles. Then it will transfer its weight to the trailer's axles to avoid putting all its weight to the tongue. If you didn't know yet, a poor towing tool can prevent you from enjoying a smooth trip. It's either you end up losing control over your trailer or simply handle it poorly. Regardless, a weight distribution hitch is really handy whenever you need to turn smoothly or step on the break. Since it can balance the weight of your trailer, maneuvering your trailer can be a lot easier.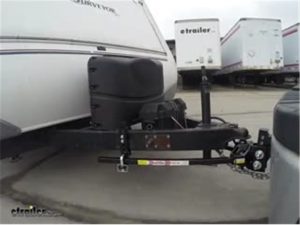 Safety and Compatibility
You can avoid risky situations on the road even if you fill your trailer up to its maximum capacity. However, you have to check your trailer's style since this tool only works with bumper pull trailers. If you have a gooseneck, then a weight distribution hitch isn't for you. It's also important to know that your towing capacity should not go beyond your trailer weight. Clearly, everything has limits even if this is for heavy-duty towing so be sure to stick to its weight capacity.
Recommended Professional Installation
Another important thing to know about a weight distribution hitch is that it needs a professional to be installed. If you love handling DIY tasks, we're afraid you might need someone else to do the installation for you. No matter how tempting it is to install the hitch yourself, we don't recommend it due to its possible risks. This should be leveled accurately with the help of brackets that are placed on the right spot. In addition, there are more factors to consider and technical knowledge that professionals know better. Unless you're a professional yourself or simply a risk taker, it's better to have it installed by the pros.
Two Types of Weight Distribution Hitches
Knowing that weight distribution hitches can be distinguished into two kinds can help you find the best product. Since many are not aware of this, be sure to understand how each kind is different from the other. But before we proceed, it's also worth to know that most weight distribution hitches use metal spring arms to work. Others are installed with vertical metal brackets in order to connect its arms to the trailer. Meanwhile, others are installed with brackets that are made out of vertical chains. Now, these are the two kinds of spring arms that are used in this tool:
With the help of these bars, the square spring bars are attached right in the ball mount's center. One of the benefits of using these bars is its ability to keep the weight balanced. Even when you're driving on rough terrain under bad weather, it can give better ground clearance. Its arms have a square shape for better support which is why it's also available at a higher price.
This type allows the spring bars to glide into the ball mount's bottom part without a hassle. These bars are used with clips to keep them in their position. Just like the trunnion bars, this type also gives more clearance room to connect your trailer to the tow vehicle. In addition, its arms/bars are attached underneath the hitch's head then curved back until they're on a parallel position.
Important Factors to Consider When Choosing
For many travelers, towing a trailer is not one of the parts of their adventure. This is due to the hassle of controlling or maneuvering the trailer especially when turning or stepping on the break. Thus, anything that can make this job easier and faster is absolutely a "must-have". After all, who doesn't want to take advantage of some handy tools that can make your trip smoother, right? A weight distribution hitch is one of those tools that can make this task more fun too. But to ensure this, here are some things to consider when choosing the good weight distribution hitch: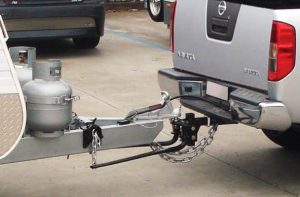 This refers to the total weight of your trailer which includes its cargo and modifications. Once you determined this, you need to make sure that your weight distribution hitch is compatible with your trailer. This means that it should have the same maximum gross trailer weight to ensure its efficiency. But if you're still a little unsure about your option's reliability, it is best to get something higher. In this case, it should be at least 50% higher than your determined gross trailer weight than its tongue capacity.
Putting a check mark on this from your list can help you make sure that everything is under control. From your driving controls to the balanced weight distribution of your trailer to your towing vehicle, you're good to go.
This refers to the total percentage of load that transfers weight on your hitch. It comes from the weight that is transferred from the end part of your trailer and your towing vehicle. Normally, it is 10 – 15% of the total gross trailer weight. Thus, you need a weight distribution hitch that matches your towing requirements.
Most if not all hitches on the market offer weight distribution as well as sway control in a single tool. Choosing a hitch that offers both can help you cut costs since you have to buy just a single tool. When it comes to performance, the best hitch should minimize the hazards of towing a trailer which includes unexpected sways. At the same time, it should be able to keep your trailer from falling whenever you're taking hard turns. To ensure your full control over your towing vehicle and trailer, you need a hitch that can provide resistance.
Obviously, the best way to get your job done fast is to choose a hitch that is easy to install. The weight distribution hitch should not give your hired professional a hard time installing it. Normally, professionals can assemble a hitch for between 30 minutes to 1 hour. Any model that requires more time and effort than an hour is not ideal unless you want to waste time.
The tongue weight can range between 1000 – 1200 pounds and gross trailer weight may range between 10000 – 12000 pounds. In this case, be sure to check the manual from the manufacturer of your vehicle to know which type suits your needs.
When it comes to setting your budget, it's best to stay away from cheap products. As much as possible, invest in reliable brands and models that are available at reasonable prices. Some may be a little expensive but these are usually the ones that guarantee the highest quality, durability, and performance.
Conclusion
So there you have it. Now, you already know the most important things about a weight distribution hitch and the top models on the market. In addition, our guide about the important factors to consider when choosing the best hitch can make you a wiser customer. Whatever kind of weight distribution hitch that you need for your vehicle and trailer, it's always important to do research. Knowing what you need and what to look for can help you save time on both physical and online stores. Thus, we hope that our top 5 picks can help you tow your trailer faster and smoother on any trip. If you want to be the first to read our review, be sure to follow us and stay updated!